Fosjoas K1 Motorized Skateboard Gives Students a Wonderful Summer Vacation
Source:Fosjoas begin Time: 2016-06-28
For students, the best gift given by school must summer vacation. During vacation, they will play with friends, travel around or go camping. All in all, they will do whatever they want. However, whatever they do, they must need a tool that can make them happy ad take them to anywhere. Then, Fosjoas K1 motorized skateboard self-balancing electric unicycle must be the best choice. It is no doubt that Fosjoas K1 is a skateboard, but it is more than a skateboard for students in summer vacation.
Fosjoas K1 electric skateboard is powered by lithium-ion battery, which is the most outstanding difference fro traditional skateboards. Therefore, it is effortless to ride Fosjoas K1 electric skateboard and students can play it to their heart's content. In the meantime, Fosjoas K1 electric skateboard is equipped with a 2.4G wireless variable speed remote control. It can easily control Fosjoas K1 electric skateboard within 10m and it makes students be their own owner. The board is crafted by world-famous designer and is made from high-quality Canada maple. The four wide and thick tyres as well we two high-elastic damping blocks offer students stable, smooth and comfortable riding experience. In order to show personality, students can choose a DIY sticker for the board. The sticker can be printed into different patterns and colors.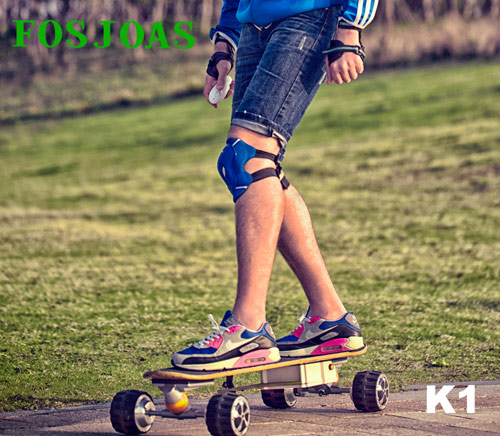 According to the above introduction, Fosjoas K1 is really a great skateboard. What students can do with Fosjoas K1 skateboard. They can gather some friends and hold a Fosjoas K1 cheap electric skateboard match. It will be very interesting. Perhaps, they can just ride Fosjoas K1 skateboard and weave on country roads or seaside. It is a good way for students to relax themselves from previous study stress. In addition, Fosjoas K1 skateboard also can be used as a transport to cover some daily travels of students. All in all, Fosjoas K1 skateboard must be an indispensable tool for students in summer vacation.