Fosjoas U3 Electric Scooter Becomes an Indispensable Part of SUV
Source:Fosjoas begin Time: 2016-07-07
Many people who love nature are willing to drive SUV. They drive SUV to enter into the nature and experience its beauty. However, SUV can't pass through all road conditions, such as a narrow mountain road, ridge or river bank and so on. It will be excellent if there is a smaller SUV that can go to any small space. Fosjoas U3 balancing electric unicycle is just the small SUV. It can be folded to small figure and put in the trunk of SUV very easily. It is like an indispensable part of SUV.
Among current intelligent self-balancing electric scooter world, Fosjoas U3 electric scooter represents energy and power. The equipped 16-inch tyres are thicker and wider than others. These two tyres not only own strong road holding capacity, but also have high safety and skid resistance. If people drive SUV to have a travel in big nature and run into a narrow mountain road, Fosjoas U3 SUV scooter comes in handy. People can find a safe place to park SUV and ride Fosjoas U3 electric scooter. They will find a unique scene of nature. In the meantime, Fosjoas U3 electric scooter is powered by 680Wh lithium-ion battery and it is able to cover a long distance. Therefore, Fosjoas U3 electric scooter is a necessity of every SUV.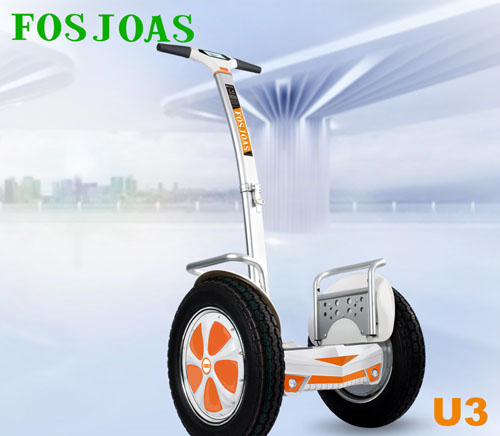 Fosjoas U3 self-balancing scooter adopts bass sound chamber. The enlarged and sealed bass sound chamber is designed to amaze people with professional sound quality and give them an unmatched music experience. On the journey, people can listen to melodious songs sung by loved singers when riding Fosjoas U3 electric unicycle self balancing scooter. Journey becomes much more enjoyable and people will fall in love with the feeling of on the way. Fosjoas U3 self-balancing scooter is similar to a small alternative of SUV in some unique occasions. In other words, it is an indispensable part of SUV.