Fosjoas V9 Intelligent Self-Balancing Electric Scooter Takes You to the Real Nature
Source:Fosjoas begin Time: 2016-07-08
Fast life tempo and bus work make many people forget the big nature. Walking into nature, you can get a relaxing mood, breath in fresh air and see clear water, white cloud, blue sky or lovely flowers. It is a praise that is far away from hustle and bustle of big city. At this moment, you need a transport to take you to enter into the real nature. What you need is Fosjoas V9 intelligent self-balancing electric unicycle.
First of all, Fosjoas V9 electric scooter is really a perfect transport. Comfortable and safe riding experience is very important for every good transport, but Fosjoas V9 electric scooter made it. It owns very simple and concise design, including two tyres, small scooter body, a controlling shaft and handlebars. Meanwhile, leaning forward speeds it up, while leaning backward slows it down. It is very easy to control Fosjoas V9 electric scooter. Meanwhile, it is powered by 520Wh lithium-ion battery and it can sustain a whole afternoon journey at least. Even if it runs out on the halfway, you can find a house or a shop along the way to charge your Fosjoas V9 electric scooter.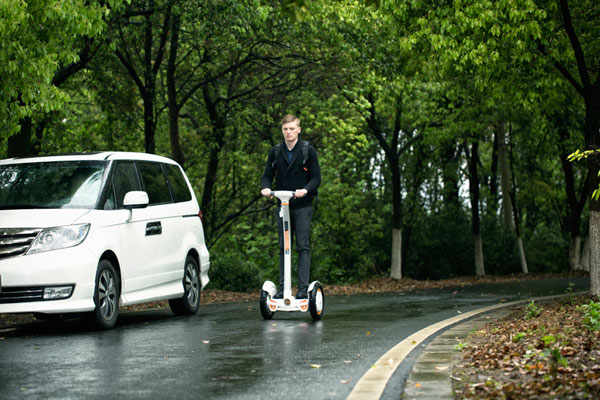 Fosjoas V9 two wheel electric scooter is equipped with super quite maglev motor and thus any noise won't be generated in the course of riding. When you are listening to sweet birds' tweets or staring at vast blue sky, Fosjoas V9 two-wheeled electric scooter won't disturb you at all. Besides, it has a closed stereo with high-quality music experience, which can be connected with cell phone via Bluetooth. In the journey, you can prepare a pair of earphone and listen to your loved songs anytime and anywhere. If you are fatigued for heavy pressure from work and life, you can ride Fosjoas V9 two-wheeled electric scooter and enjoy tranquility in the great nature.