Fosjoas V2 Electric Scooter Becomes My Tool for Shopping
Source:Fosjoas begin Time: 2016-07-11
For many girls, shopping mall is their paradise. Nowadays, shopping mall offers rich services, such as fashionable clothes, beautiful shoes, delicious food or many interesting recreation activities and so on. It is why many people are willing to spend weekend afternoon in shopping mall. When it comes to me, I will spend at least one afternoon in shopping mall every week and my transport is car. On weekends, it is very difficult to find a lot in underground parking, let alone open parking lot. Usually, it takes me almost an hour to find a parking lot and fetch it. Now, I completely get rid of that plight because of my Fosjoas V2 self-balancing scooters. Since I ride Fosjoas V2 electric scooter to go to shopping mall, shopping becomes so exciting and enjoyable.
Generally speaking, shopping mall is located in busy downtown. Undoubtedly, the traffic around it is very congested. Actually, the distance between my house and shopping mall is just 6km, but it takes me almost an hour to get there and park my car. However, riding my lovely Fosjoas V2 self-balancing scooter can effectively avoid traffic jam and save me much more valuable time. When I get to shopping mall, I don't need to find a parking space. I will continue to ride it within shopping mall. When I come across a clothes shop or a boutique, I will stop and put Fosjoas V2 self-balancing scooter beside me to enjoy the fashionable clothes and interesting things at will.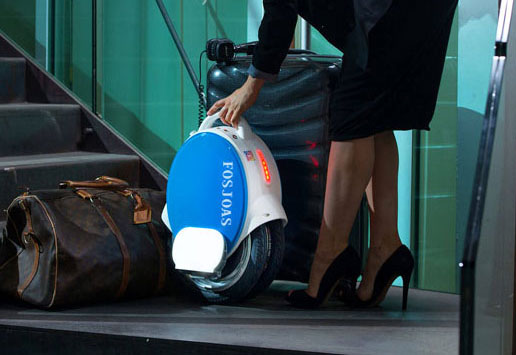 When I am fatigued, I will find a coffee house and enjoy a cup of coffee with my friends or family members. If it is mealtime, I will find a restaurant and enjoy delicious food there. When I am having the meal, I can put Fosjoas V2 twin-wheeled self-balancing unicycle under the desk. It really brings me great convenience.