Why Do So Many People Love Fosjoas V9 Two-Wheeled Electric Scooter?
Source:Fosjoas begin Time: 2016-07-13
A lot of people fall in love with Fosjoas V9 two-wheeled electric unicycle since the test riding for the very first time. However, it is not the only reason why so many people are attracted by it. People love it for its fashionable appearance, excellent riding experience, perfect music experience, environmental-friendly property, low power consumption, wide applications and others. The following will unveil them in details.
Fosjoas V9 electric scooter is made from high-quality materials. For example, two high-quality tyres come from world-famous tyre brand. The frame is made from aluminum alloy, which is light and has very good shock absorption ability. Meanwhile, it keeps itself balanced by built-in intelligent systems, which makes riding relaxing and comfortable. Different controls can be finished by leaning forward and backward. Besides, the adopted imported lithium-ion battery offers sufficient power.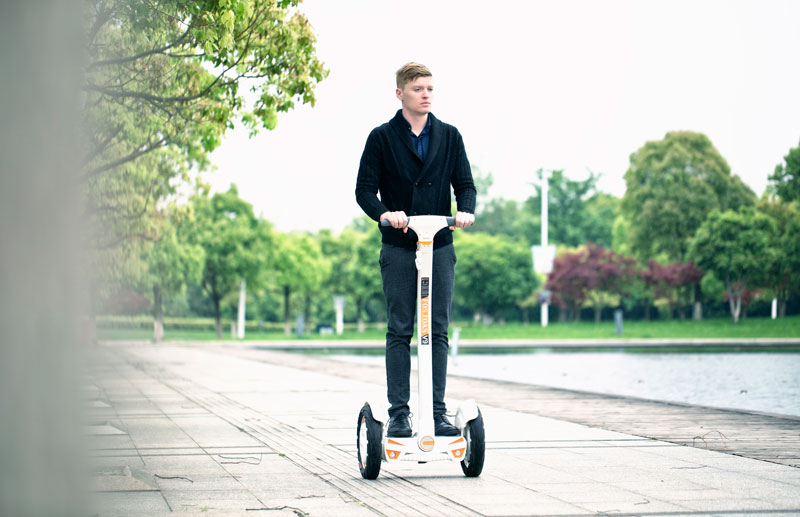 Now that Fosjoas V9 two-wheeled self-balancing scooter is driven by electricity, it won't discharge any exhausts that may harm the environment. In other words, it is helpful to protect the living environment. Considering the gasoline-powered vehicles bring serious environmental pollution, eco-friendly Fosjoas V9 two-wheeled self-balancing scooter is widely suggested by a lot of environmentalists. What is more, it is also energy-saving. According to the practical test, Fosjoas V9 to-wheeled self-balancing scooter just needs 2Kwh for 100km.
When it comes to what Fosjoas V9 two wheel electric scooter can do for people, there is a lot to say. Briefly speaking, it can be a travel transport for people from all age groups and can satisfy people's various travel demands. After all, it is a piece of cake to ride Fosjoas V9 self-balancing scooter expertly. Stand on it and lean forward slightly. It will move forward automatically. Therefore, even the elderly can ride it smoothly. People can ride it go to work or go to school. They also can ride it to relax themselves.