A Happy Hometown Journey With Fosjoas U3 SUV Electric Scooter
Source:Fosjoas begin Time: 2016-07-21
In my memory, my hometown is a quiet and beautiful countryside. It has clean rivers, green trees, blue sky, white cloud and vast fields. I had many good friends in my childhood. When I was 10 years old, my parents and I moved to big city. Every couple of years, we will go back to hometown. Now, I haven't returned to it for several years already. Today, it is Fosjoas U3 two wheel self balancing scooter that gives me an unforgettable hometown journey.
Generally speaking, it takes me an hour to drive car to get to my hometown. This time, I decide to take with Fosjoas U3 self-balancing scooter and put it to my trunk. Then, my hometown journey starts. When I reach my missed hometown and I park my car on an open ground. Then, I take out Fosjoas U3 self-balancing scooter and ride it to weave in my hometown. In these years, the hometown changes a lot. Many high buildings are springing up like mushrooms. The roads are much more flat and smoother. There are any pants on two sides of roads. Farmers have adopted high technology to cultivate their farmlands. My hometown is not big, but there are many memorial places in my head. It is very free and relaxing to ride Fosjoas U3 self-balancing scooter enjoy every part of hometown.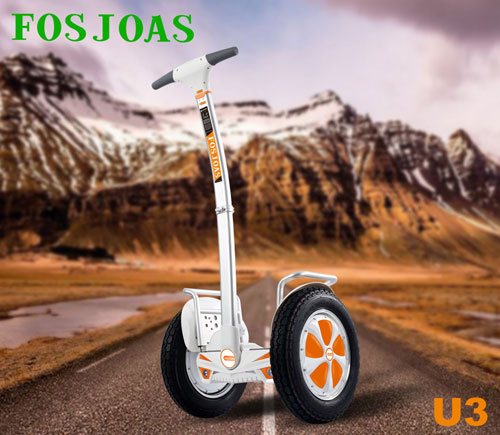 The air is so fresh here and I am moving forward all the time. I don't worry that Fosjoas U3 two-wheeled electric scooter may run out halfway, because it is powered by 680Wh lithium-ion battery and I has charged it full at home. At this moment, I take out my phone wear a pair of earphones. Then, I can enjoy the loved songs in my cell phone. However, the player is not phone, but Fosjoas U3 electric unicycle, for it has high-quality sound chamber.