People Will Fall in Love With Fosjoas Intelligent Self-Balancing Electric Scooters
Source:Fosjoas begin Time: 2016-07-22
Nowadays, intelligent self-balancing electric unicycle become more and more popular and Fosjoas is the leader in this sector. In the daily life, Fosjoas electric scooters give people convenient and high-efficiency travels. More importantly, it helps people to get to the destination much quicker, especially in rush hours. Besides, they are environmental-friendly. Fosjoas has held many outdoor test riding spots and people can have a try on its electric scooters personally. Believe me, everyone will fall in love with it.
At present, Fosjoas has many different scooter types. Fosjoas U1 mini electric scooter is famous for small figure and double riding modes. Fosjoas K1 motorized skateboard is a new star in skateboarding world. Fosjoas K2 and K5 electric scooters have advantages in small storage space, unlimited range and comfortable riding posture. Fosjoas two-wheeled electric scooter, like K3, U3 and V9, is easy to control and it can give people a trip on weekends. Speaking of Fosjoas twin-wheeled electric scooter and electric unicycle, they are very small and light. They can take people to any place they want. Besides K2 and K5, all of Fosjoas electric scooters rely on body inclination. It means that riders can realize many controls, such as moving forward, speeding up, slowing down, braking and steering, by leaning forward, leaning backward, turning left or turning right. Generally speaking, it just takes people five minutes at most to learn how to ride a type of Fosjoas electric scooter.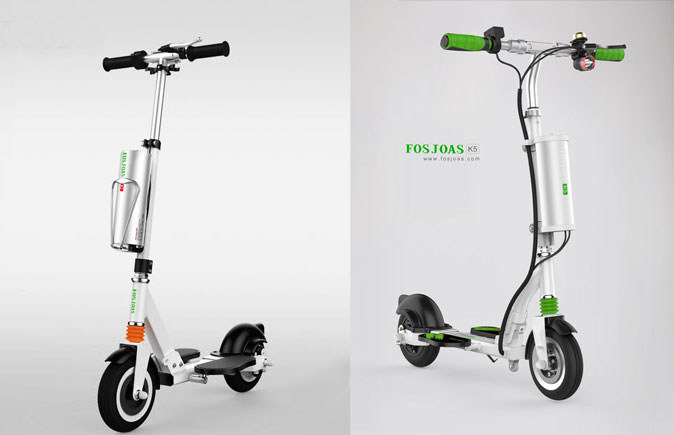 Fosjoas electric scooters can do a lot for people. First of all, they are the best commuting transport. Then, people don't need to wait for public bus or won't be stuck in traffic jam anymore. They also can be good exercise equipment or funny plaything. Fosjoas twin-wheeled and electric one wheel scooters and Fosjoas K1 electric skateboard are the typical examples. All in all, everyone can find a suitable scooter type.