Fosjoas V9 Two-Wheeled Electric Scooter Gives You a Wonderful Journey
Source:Fosjoas begin Time: 2016-08-01
In daily life, you must have different travel requirements, such as going to work in the morning, meeting good friends in a coffee house or having a trip on weekends and so on. Therefore, a suitable travel transport is very important. The suggested travel transport today is Fosjoas V9 two wheel electric scooter. You will find that it makes your life wonderful.
The high-end and exquisite appearance of Fosjoas V9 electric scooter will attract your attention. In the front, the face of Fosjoas V9 electric scooter is like that of Lamborghini, which is why many social elites fall in love it, too. The two-wheeled design ensures comfortable and stable riding experience, which can take you to anywhere and anytime. The lighter and tougher magnesium alloy frame offers very comfortable hand feel. Meanwhile, Fosjoas V9 electric scooter is based on aerospace attitude control theory, fuzzy software algorithm and gyroscope system to keep itself balanced. Then, you can control Fosjoas V9 electric scooter very easily. As long as you stand on Fosjoas V9 electric scooter and slightly lean your body forward, then, it will move forward automatically and its speed will be faster and faster. If you want to slow down or brake, you can lean backward.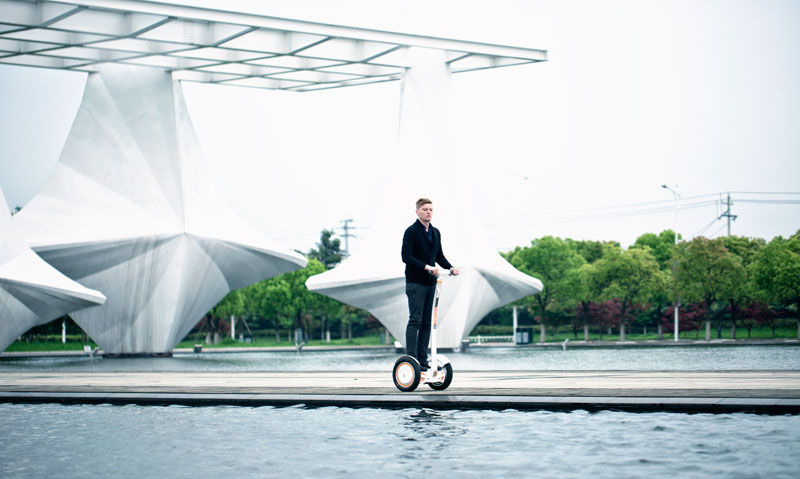 What Fosjoas V9 electric self-balancing unicycle can do for you? You can ride it to cover all of your travels in daily life. You can ride it to work in the morning and you will find the real beauty in your city. Once upon a time, you spend too much time in fighting with traffic jam and have no time to appreciate this city. However, Fosjoas V9 self-balancing scooter not only takes you to company on time, but also lets you weave on road relaxingly. You can also ride it to meet your friends. On weekends, you can ride it to start a happy trip.