Two Fosjoas Intelligent Self-Balancing Electric Scooters Are Designed for Girls' Commuting
Source:Fosjoas begin Time: 2016-08-12
Many girls dislike taking public transportations to go work, because they are hate crowds and smelly air in bus or subway. They are also reluctant to drive car, because they may be crazy by traffic jam. What they need is a type of portable and convenient commuting transport. Fosjoas intelligent electric unicycle self balancing scooter may cater for their need. Among Fosjoas electric scooters, there are two scooter types that are quite suitable for girls, which are Fosjoas K5 two-wheeled electric scooter and K3 sitting-posture electric scooter.
Speaking of Fosjoas K5 two-wheeled electric scooter, the novel appearance has attracted many girls already. The concise design and powerful riding performance become striking contrast. The operating arm is adjustable and girls always can find a comfortable position according to their own height. The triple folding system makes Fosjoas K5 electric scooter ask for very small parking space at home or in office. Meanwhile, the adopted front-standing riding mode won't cause any fatigue at all. The USB connector can charge the phone or other electronic devices on their way to company or home. Besides, the replaceable battery unit makes unlimited range be possible. When emergency happens, Fosjoas K5 electric scooter can increase brake strength so as to shorten the stopping distance according to speed and intensity.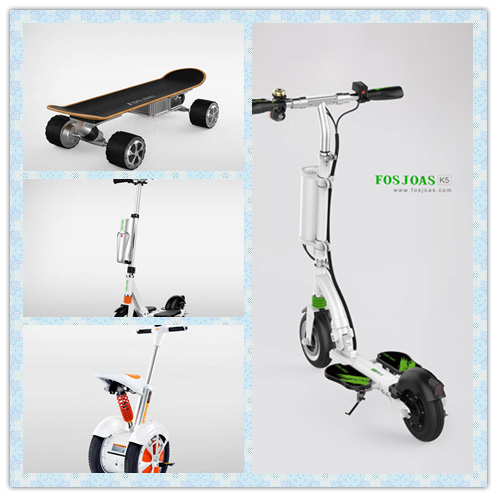 As to Fosjoas K3 electric scooter, it adopts sitting-posture riding mode, which makes riding relaxing and comfortable. It firstly adopts electronic brake system. If emergency happens, girls can press the brake button beside handlebar. Then, it will offer quick and accurate brake with only 50cm stopping distance, which makes sure high safety. The hydraulic suspension system is able to absorb bumps on road and thus riding becomes very smooth. Different from K5 self-balancing unicycle, riding K3 sitting-posture scooter is based on body inclination. Leaning forward moves it forward or speeds it up, while leaning backward realizes slowing down or brake.