Fosjoas V8 Twin-Wheeled Electric Scooter and K2 Two-Wheeled Scooter, One is for Life, the Other One is for Travel
Source:Fosjoas begin Time: 2016-08-17
In daily life, people need two transports. The one is for life, such as going to work, going shopping or other social activities. The other one is for travel, which is helpful to release pressure. Here suggests two transports: Fosjoas V8 twin-wheeled electric unicycle and K2 two-wheeled self-balancing scooter. They will facilitate life and delight people. Then, the following is going to introduce them in details.
Are you still spending hours getting stuck in crowds and traffic jam everyday? Do you prefer to stay at home instead of going shopping with good friends because of traffic jam on weekends? Do you want to get to destination quickly and smoothly? At this moment, Fosjoas V8 twin-wheeled self-balancing scooter is the blessing to you, which represents the future commuting concept and has become the annual best-received product. As long as you stand on Fosjoas V8 twin-wheeled self-balancing scooter and slightly lean forward, the small figure can take you and weave among crowds freely. If an emergency happens, you can slightly lean backward and it will stop easily. Easy riding and high riding efficiency makes Fosjoas V8 twin-wheeled self-balancing scooter the top transport for daily use.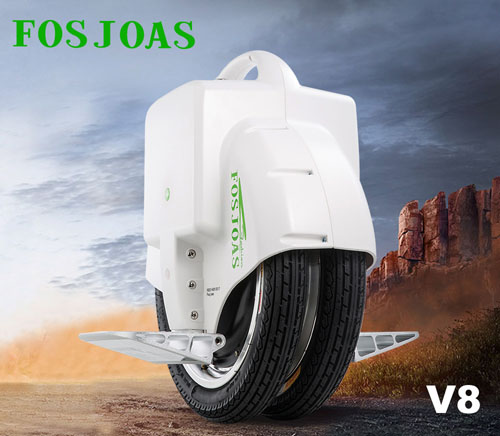 Do you want to have a trip on weekends? Fosjoas K2 two wheel self balancing scooter is your very first choice. One of outstanding advantages is unlimited range, because it adopts replaceable battery. If the weather condition is good enough, you can pack your bag and ride Fosjoas K2 standing up electric scooter to anywhere. If your destination is hundreds of kilometers away, you can drive a car and put Fosjoas K2 electric scooter in trunk. It is equipped with multiple folding system. In other words, you can fold it into small figure. Besides, the front-posture riding mode is quite humanized and long-time riding won't make you fatigued.