If You Have No Idea to Select an Electric Scooter, Fosjoas Tells You
Source:Fosjoas begin Time: 2016-08-19
In daily life, you must need a type of electric scooter, which can give you an easy and efficient riding. It takes you to the destination quickly and conveniently. However, there are too many choices on the current electric unicycle market. How could you select a type of high-quality electric scooter? Fosjoas, the leading brand in intelligent self-balancing electric scooter sector, will give you useful suggestions. Under Fosjoas, there are many electric scooters and the following helps you to unscramble them.
Fosjoas electric unicycle and twin-wheeled electric scooter are quite similar. Both of them are small and light. They can pass through narrow lanes and be carried by hand easily. Therefore, they can avoid traffic jam and take riders to destination faster. More importantly, they are based on aerospace attitude control theory, fuzzy software algorithm and gyroscope system to keep themselves balanced automatically. Then, riding is very easy and all controls are realized by body inclination.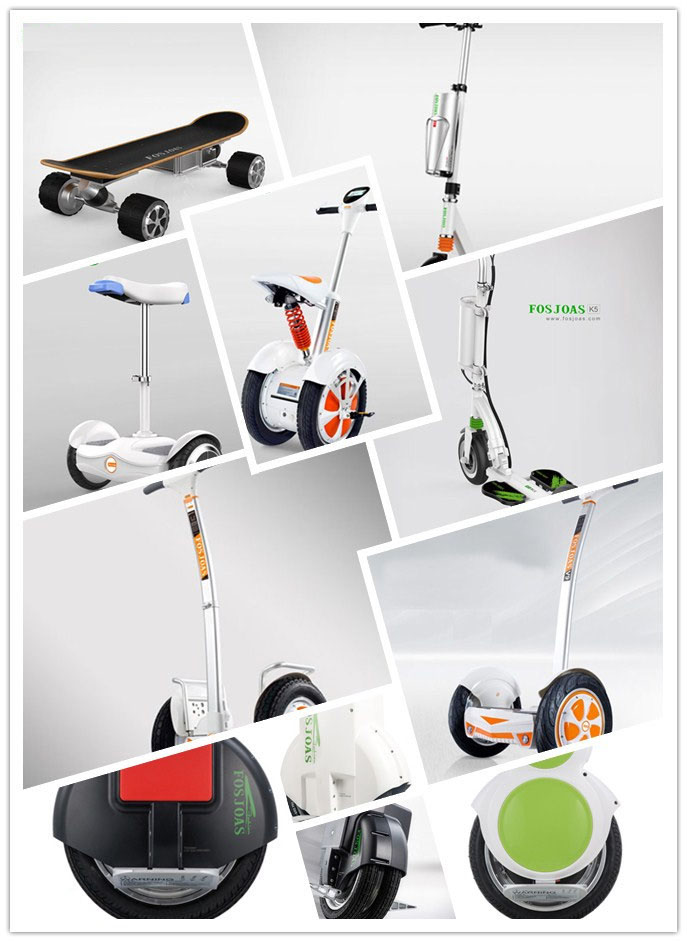 Fosjoas two-wheeled electric scooter is another series and its representatives are K3, U3, U1, V9, K2 and K5. The unique two-wheeled design ensures comfortable and stable riding experience. Usually, many high-end people would like to choose them as their commuting transports. In addition, many people are willing to ride them and have a trip on weekend. Take K2 and K5 for instance. They offer unlimited range and become the best transports in travel.
Fosjoas K1 electric skateboard is shinning point in skateboarding field. Different from traditional skateboards, Fosjoas K1 motorized skateboard is powered by lithium-ion battery, which makes sliding almost effortless. Meanwhile, it is made from high-quality materials. For example, the board adopts Canada maple that has good stability and is crafted by first-class designer. People from little kids to the elderly are capable of riding Fosjoas K1 motorized skateboard freely and safely.