Fosjoas K1 Motorized Skateboard, The Best Gift for Kids
Source:Fosjoas begin Time: 2016-08-22
Every kid loves a gift, especially in some important days. When parents or other elders are selecting for kids, they pay attention to the safety and entertainment. In recent, a gift becomes more and more popular among kids, which is Fosjoas K1 self-balancing electric scooter. It offers very safe and funny skating experience. For kids, Fosjoas K1 wireless control skateboard must be at the top of gift list.
The appearance of Fosjoas K1 electric skateboard has already attracted many kids. The board is made from high-quality Canada maple that has good stability. The four tyres pave the way for excellent skating experience. More importantly, kids can design DIY sticker for the board their Fosjoas K1 electric skateboard. The DIY sticker can be made up of any colors and patterns. For example, some kids are obsessed with spider-man. Then, they can print the figure of spider-man on the sticker. Designing DIY sticker is helpful to give full play to kids' creation and imagination.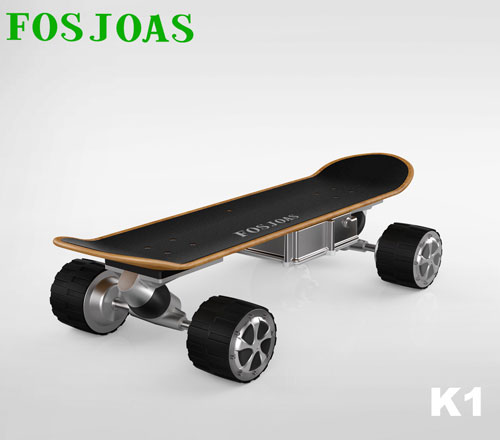 The safe and terrific skating experience is also very important to kids. Fosjoas K1 motorized skateboard is powered by lithium-ion battery. At the same time, it adopts aviation attitude control, fuzzy software algorithm and gyro-system, which makes it keep balanced by itself. Thus, it is very easy for kids to ride Fosjoas K1. When kids stand on the board and slightly incline forward, Fosjoas K1 cheap electric skateboard will move forward and its speed won't surpass 18km/h. If they incline backward, it will slow down. If kids come across people in front, they can stop immediately. Besides, Fosjoas K1 skateboard is equipped with a 2.4G wireless remote control and kids can use it to realize different controls. Compared with other playthings, parents are at ease when their kids are skating Fosjoas K1 skateboard. It is also a good way of releasing study pressure.