Fosjoas V9 Two-Wheeled Electric Scooter Will Take Your Fatigue Away
Source:Fosjoas begin Time: 2016-08-30
Many people, especially those talents in various fields, are very busy in their workdays. After work, they are too exhausted to attend friends' party, to take exercise or to do others. They are short of an effective way of releasing their fatigue. However, there is a tool may help them out, which is Fosjoas V9 two wheel self balancing scooter. It is a transport and also an exercise tool.
For talents, their time is quite valuable, but they have no choice but spend a lot of time on road, especially in rush hours. In the morning, they have to sacrifice sleep time to get up early so as to work on time. After work, they drag exhausted body to fight with traffic jam and get home. It is Fosjoas V9 two-wheeled self-balancing scooter that will smoothen the journey between company and house. Two-wheeled design paves the way for people to stand on Fosjoas V9 scooter and ride it relaxingly and comfortably. After all, slightly altering body gravity will realize different controls, such as leaning forward means speeding up or leaning backward is slowing down. The most important is Fosjoas V9 scooter will freely weave on road and won't be hindered by traffic jam or crowed passersby. It is said Fosjoas V9 scooter will save people 400% time. That's amazing.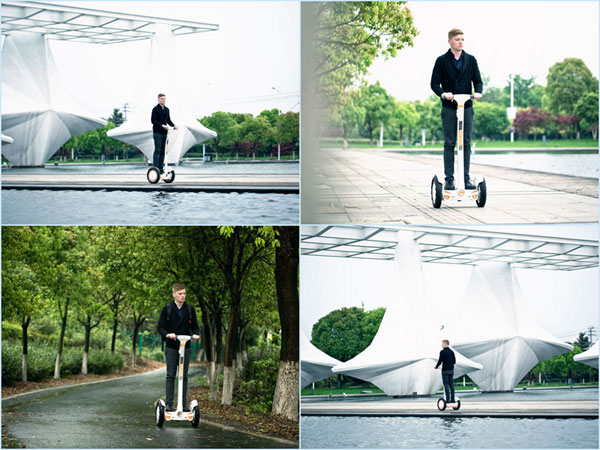 Commute problem is solved and people save too much energy. During riding, now that all controls are realized by changing body states, the whole body, especially waist, backbone, neck and four limbs, has been fully exercised. Then, people don't need to spare extra time to take exercise particularly if they ride Fosjoas V9 electric unicycle to work every day. Besides, the equipped closed stereo offers excellent music experience. You can connect Fosjoas V9 electric scooter and your phone via Bluetooth. Then, you can play your collected songs in the journey, which brightens both journey and life.