Fosjoas K2 Eco-Friendly Electric Scooter Promotes the Relation Between Lovers
Source:Fosjoas begin Time: 2016-09-03
Lovers often do the same thing, such as watching movie, shopping or eating delicious food and so on. In fact, what they need is a travel. In a strange place, lovers can see different scenery and improve the love relationship. What they need most is a suitable travel tool. Currently, the most suitable tool must be the Fosjoas K2 eco-friendly electric scooter.
Fosjoas K2 standing up electric scooter has novel and delicate appearance, which caters for the aesthetics of many young lovers. As a travel transport, Fosjoas K2 standing up electric scooter offers lovers very comfortable riding experience. On the one hand, the adjustable operating arm can be regulated in accordance with the height of lovers. On the other hand, the adopted anterior standing riding posture won't generate fatigue even if it is a long-time riding. Fosjoas K2 standing up electric scooter is powered by advanced lithium-ion battery. Such a battery has two outstanding features. It chooses up-equipped design, which is suitable for all road conditions and weather conditions. At the same time, the battery is replaceable. Then, the unlimited range becomes possible.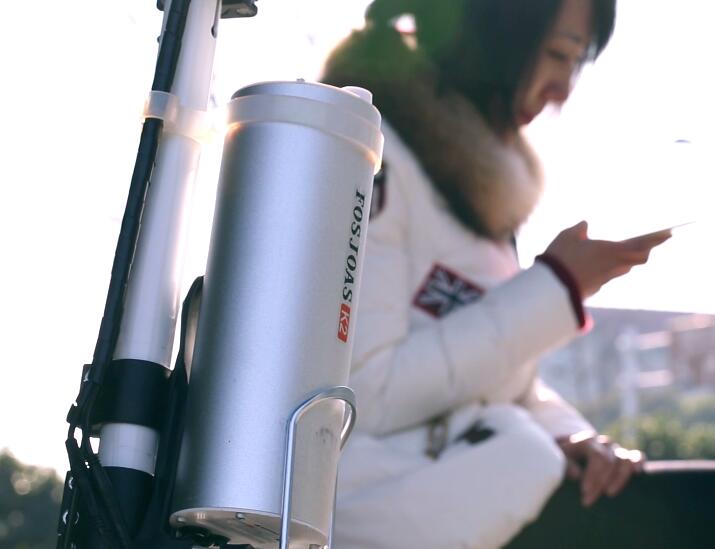 What Fosjoas K2 two-wheeled electric scooter can do for lovers? After work, they can find a well-known restaurant and enjoy delicious foods there. Of course, the restaurant here is different from roadside food shop. Sometimes, they need to ride long time to reach there, but they have Fosjoas K2 intelligent self balancing scooter uk. On weekends, they can spend two days or just one day having a trip together. They can stay at a strange place that is different from their everyday living environment. The unique scenery will make them happy and a strange place will improve the relationship between lovers. It is said the meaning of travel is to love life more. Fosjoas K2 won't make lovers disappointed.