Fosjoas K3 Sitting-Posture Electric Scooter Offers Girls Enough Makeup Time
Source:Fosjoas begin Time: 2016-09-05
Makeup is very important for every girl in the work. However, a whole makeup consists of such steps as cleaning, activating serum, essential balancing water and emulsion, firming cream, sun cream, liquid foundation, powder, eye shadow, eyeliner, blusher, thrush and lipstick, which at least costs 40 minutes. Some girls who pay special attention to details will need more time for makeup. A good makeup will make girls confident and help them to gain more opportunities in career. However, most of girls complain that they only have a rushed makeup, or they may be late for work because of traffic jam. Now, girls have way out, which is Fosjoas K3 sitting-posture self-balancing electric scooter.
Compared with private car and public transportation, Fosjoas K3 sitting-posture self-balancing scooter will save girls by as much as 400% time. Both congested traffic and crowded passersby won't prevent Fosjoas K3 self-balancing scooter from moving forward. In the meantime, it is very relaxing and safe to ride Fosjoas K3 self-balancing scooter. Based on aerospace attitude control theory, fuzzy software algorithm and gyroscope system, girls can realize all controls by regulating body gravity. For example, leaning forward will move it forward or speed it up. Besides, the equipped electronic brake system offers quick, accurate and safe brake under emergency. Finally, girls can get up late and have more time for makeup on workdays. Then, they can be confident to start work.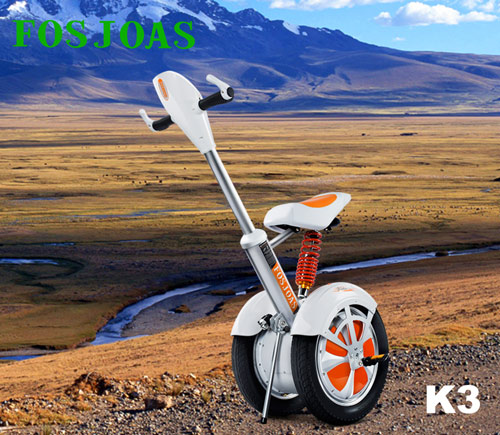 Fosjoas K3 self-balancing electric scooter not only gives girls enough makeup time in the morning, but also offers them positive life attitude. After all, enough time, beautiful makeup, great self-confidence and high work efficiency will let girls fall in love with life. More importantly, the fashionable appearance and delicate craftsmanship of Fosjoas K3 two wheel electric scooter for sale will help charming girls win much more head turning.