Fosjoas K1 Motorized Skateboard Will Never Let You Down
Source:Fosjoas begin Time: 2016-09-17
If you are a young boy or even a young girl, you may be quite interested in skateboarding. After all, standing on a board and weaving on the ground will be an exciting experience. However, based on physical strength, you may be exhausted if you slide skateboard for one or two hours. Do you want to play skateboard for a whole afternoon without interruption? In fact, as long as the power of skateboard is not physical strength, but an external force, the long-time sliding becomes possible. Only one skateboard can realize that goal, which is Fosjoas K1 motorized skateboard. It absolutely won't let you down.
The board of Fosjoas K1 electric skateboard is made from high-quality Canadian maple that enjoys stable performance. At the same time, the elaborately selected maple is handcrafted by world famous designer, which makes board have smooth line. In order to make board attractive, Fosjoas offers optional and customizable DIY patterns that will give full play to your creation and imagination. Then, you will own a type of personal-exclusively K1 electric skateboard. The four wide tyres are highlights. They have strong road holding ability and excellent adaptability. More importantly, the equipped high-elastic damping blocks on both front and rear wheels can absorb the bumps on road so as to ensure stable and comfortable sliding experience.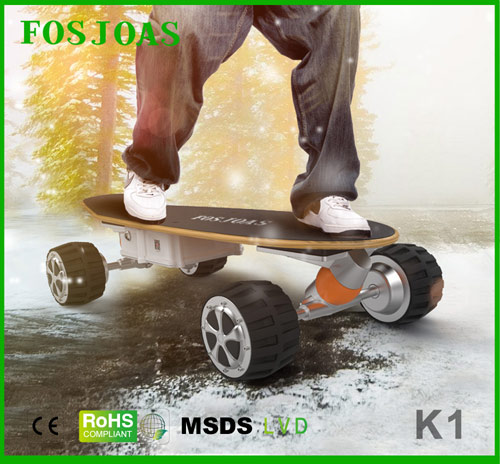 One of the biggest innovations is that Fosjoas K1 two wheel self balancing scooter is driven by imported lithium-ion battery. Stand on board and incline body to different directions. Then, Fosjoas K1 skateboard will move forward and realize different controls. You can ride it and weave on road heartily, which will let you forget all of your troubles. You can ride it to anywhere as long as the battery still has electricity. For you, Fosjoas K1 skateboard is more than a plaything, but a tool for daily use. It will never let you down.