Fosjoas K2 Standing Up Electric Scooter Offers You High Riding Safety and Excellent Riding Experience
Source:Fosjoas begin Time: 2016-09-19
Fosjoas is famous for its great intelligent electric unicycle and K2 standing up scooter is one of most eminent works. It offers you high riding safety and excellent riding experience. You can ride it and start a journey anytime and anywhere. If you are willing to choose one and apply it in your life, you will be grateful for your choice. The following will explain it in details.
Like others, Fosjoas K2 two-wheeled electric scooter is also powered by imported and advanced lithium-ion battery. Thus, you don't need to doubt about the driving force. In order to ensure personal safety, Fosjoas K2 two-wheeled electric scooter adopts a brake assist system, which can increase the brake force and shorten the braking distance. Besides, the adopted anterior-standing riding mode and shock mitigation system decide comfortable and smooth riding experience. The former is designed in accordance with principles of ergonomics and is helpful to eliminate the fatigue. As to the shock mitigation system, it can absorb the bumps on road so as to smoothen the riding.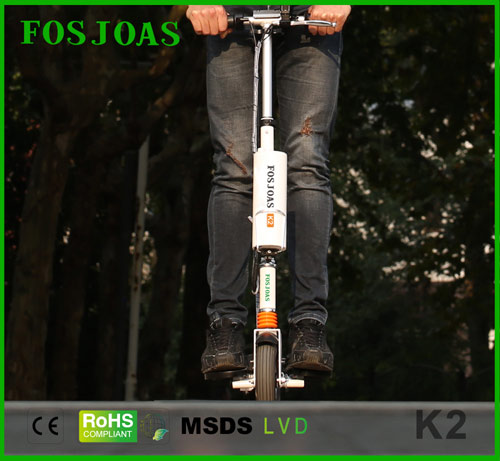 In addition, Fosjoas K2 standing up electric scooter has many other humanized designs. The adjustable operating arm comes very first. You can adjust it according to your own height and you will get comfortable riding experience. The up-equipped and replaceable battery unit makes not only Fosjoas K2 standing up electric scooter suitable for all weather conditions and road conditions, but also unlimited range be possible. The multiple fold system and foldable pedals pave the way for small storage space. The smart phone APP is another shining point. Such an APP is exclusive to Fosjoas K2 standing up electric scooter and it can monitor the scooter via the phone easily. The function of one key to unlock the scooter is terrific. Therefore, it is never exaggerated that Fosjoas K2 can satisfy all of your travels.