Fosjoas K5 Two-Wheeled Electric Scooter Promotes Your Temperament
Source:Fosjoas begin Time: 2016-09-29
A travel transport represents the image and temperature of people. For example, a boy who drives sports car must be full of passion towards life. However, not all people can afford sports car. What if there is a travel transport that is not only economical, but also improves your temperament? Such a travel tool is Fosjoas K5 two-wheeled intelligent cheap electric unicycle. It is made from high-quality material and is personally designed by first-class designer in the world.
Fosjoas K5 standing up electric scooter adopts brand-new folding system and thus it can be folded or spread freely. Therefore, it can enter into all of spaces, such as elevator, subway, public bus, trunk, dining room or office and so on. Whether it is folded or spread, it will attract attention of onlookers and you will always be the focus. When it is unfolded, it is a concise and fashionable travel tool. Two small tyres are full of energy. The adjustable operating arm will let you find the most comfortable height. The pedals and handlebars are made from high-grade materials, which offer very comfortable feet and hand feel.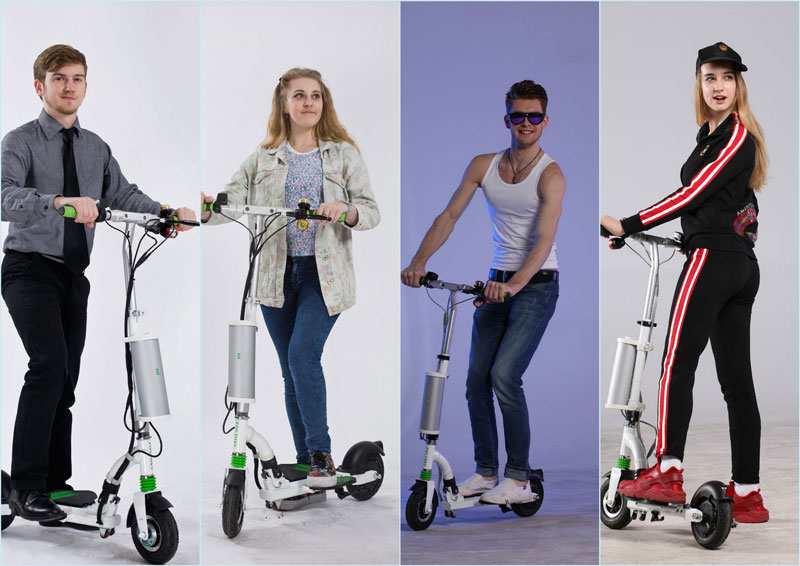 The brake auxiliary system is used to shorten the stopping distance in accordance with the brake strength and speed. On the basis of lighting system, Fosjoas K5 electric standing scooter is equipped with automatic riding lamp, which helps you know the road conditions. The riding safety is largely ensured. The battery adopts modular design and it is replaceable, which paves the way for unlimited range. Besides, the USB connector offers power for your cell phone, digital camera or other electronic devices. Fosjoas has developed an exclusive APP for K5 two wheeled electric scooter. You can check the real-time data, like riding speed, battery level, track and mileage, via the APP in your phone. You also can regulate the speed parameter so as to gain the best riding experience.