Fosjoas U3 SUV Electric Scooter Broadens Your Outlook on the Journey
Source:Fosjoas begin Time: 2016-10-07
Busy city life makes people want to escape from it. They need a tool to leave hustle and bustle, and to find tranquility in the great nature. Fosjoas U3 SUV self-balancing two wheel electric scooter can help you. What is more, it will broaden your outlook on the journey. How could it do that? On the one hand, it can take you to the depth of the nature. On the other hand, the equipped bass sound chamber is the link between you and the outside world.
Just as its name implies, Fosjoas U3 SUV electric scooter is designed to challenge the nature. The adopted 16-inch tyres have unique tread pattern, which is helpful to drain water, dissipate heat and enhance the grip performance. Therefore, these two tyres have very strong adaptability to some difficult road conditions, such as soft grassland, bumpy mountain road or hard stone road and so on. At the same time, Fosjoas U3 SUV self-balancing scooter is powered by 680Wh lithium-ion battery, which supports long range. Even if it runs out, you can stop and find a place to charge it. Besides, Fosjoas U3 self-balancing scooter has exclusive fender holder that is made from special aviation aluminum alloy, which is much more durable with great holding capacity. To sum up, Fosjoas U3 scooter must be the best tool to enter into the nature.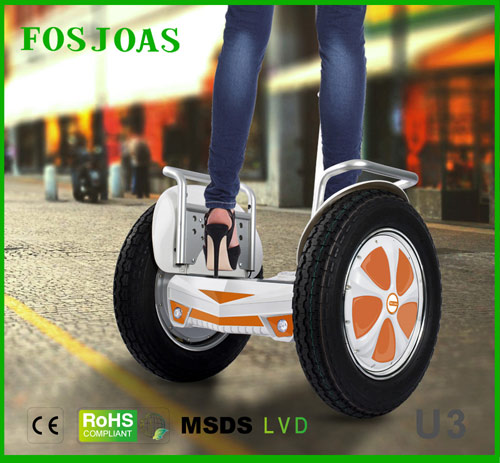 In order to entertain your journey, Fosjoas U3 two-wheel electric self-balancing scooter is equipped with a large volume bass sound chamber. Generally speaking, most people use it to connect with the phone and play their loved songs, for it really offers high music quality. In fact, you don't need to be confined to music. You also can listen to the real-time news from domestic and overseas. Although you are in remote nature, you still keep in touch with the world. You outlook will be largely broadened.