Life Inspiration - Fosjoas K2 Foldable Electric Scooter
Source:Fosjoas begin Time: 2016-10-26
Abstract: What Fosjoas K2 foldable electric scooter brings people is more than comfortable and unique riding but the heart to see the whole world and to enrich their current lives.
Among the clients of Fosjoas K2, they used to have such a group of persons, and they shut love, friendship of their life by saying it's impossible to find, so they lock themselves in the room and refuse to contact with outside world. Thanks to the emergence of Fosjoas K2 2-wheeled electric scooter, they think of the lives seriously again and decide to ride out with this partner. The folling designs of Fosjoas K2 make it safer and more beautiful. In accordance with ergonomics, K2 allows you to ride more freely.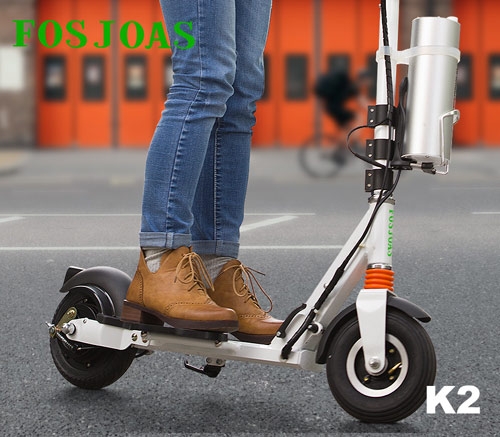 Unlike other two-wheel electric scooter, Fosjoas K2 standing up electric scooter chooses modular battery design. If people want longer riding range or forget to charge battery the last day and the existing battery has run out of electricity, they just need to replace it with a standby battery due to DIY battery design.
For the easiness to carry Fosjoas K2 foldable electric scooter, there is an innovative multiple fold system. With the brand new folding point and concealed lock catch design, K2 possesses a stylish externality. Triple folding system of K2 enables it can be easily carried into the elevator, subway, bus, or stored in a car trunk. Fosjoas K2's body is made of magnesium alloy material solid and gorgeous, and the pedals are made from matting material which has great skid resistance. As an important part of scooter, the pedals have no hidden trouble and can improve the operation.
Exclusive Fosjoas app is developed to learn the real-time riding condition, such as speed, residual capacity, track, mileage, etc. By app to adjust K2's current velocity parameters, it can meet travel demand and increase the level of comfort riding experience. Riding Fosjoas K2 electric standing scooter is not only one-person activity, going out with friends, family or relatives, but also a medium to see the outside world or just breathe fresh air which is a better choice than just stay at home.
Fosjoas K2 brings people is more than comfortable and unique riding but enrich their current lives.