Which One Is The Most Popular Fosjoas Electric Scooter?
Source:Fosjoas begin Time: 2016-10-31
Abstract: In recent years, self-balancing electric scooters have appeared more frequently in TV series, shows and on the streets. People are eager to know what kind of vehicle the self-balancing electric scooter is? Fosjoas will tell you.
There are hundreds of electric scooter brands worldwide. Each brand offers dozens of choices. Among all the brands and types, which is the most popular electric self-balancing scooter? The performance of Fosjoas intelligent electric scooter is determined by a high-tech intelligent chip built-in. It commands the intelligent e scooters to make corresponding movements with riders.
Moben Intl Co., is now a leading brand in the market which is middle priced. It has produced many cool products with high cost performance. Among all brands in the world, Fosjoas electric self-balancing scooter keeps a low profile and follows its own route. In the recent years it has won the heart of many loyal fans. Fosjoas launches new products quickly in the market. Fosjoas designers catch the most fashionable elements and integrate them into designing, which is favorably received by customers.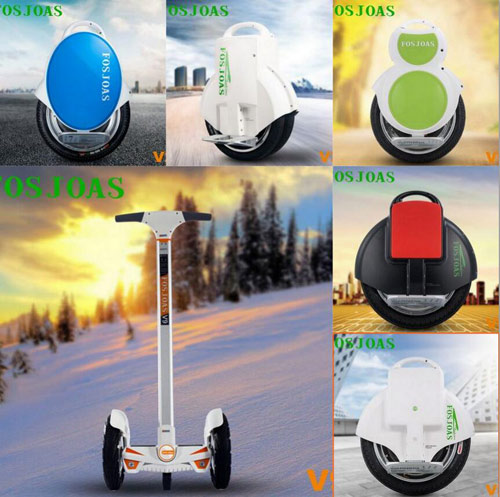 Whether the cute electric unicycles or the stylish 2-wheeled electric scooters, they represent the ingenious design philosophy of Moben. Speaking of coolness, V6 will bring about fabulous look. V6 is a trendy fashion icon, painted with cool black and white. V6 electric one wheel is very agile and accurately detects riders' body movement. Riders will not feel uncomfortable during the riding process.
The twin-wheeled electric scooter, for example, V3, V5 and V8, acts as an upgraded version of the single-wheeled scooter. On the base of the single-wheeled scooter, a tiny change was brought into the structure of one-wheel scooter, and twin-wheeled structure was invented. That's one small change for structure, one giant leap for sheer creation.
Fosjoas V9 can be termed as an innovative and revolutionary model, for it ushered in the age of 2-wheeled electric scooter. It broke the monopoly of the single-wheeled scooter. Fosjoas U3 is a refined version of the previous V9 that is positioned as an ATV. Fosjoas K1 and K2 are designed to achieve different proposes. K1 is more favored by the young and K2 is suitable to be a commuting vehicle, thanks to the lightweight and portability.
So, which Fosjoas is the most popular one?