Fosjoas K3 Saddle-Equipped Scooter Is a Bona Fide Mixture of Advanced Tech
Source:Fosjoas begin Time: 2016-10-31
Abstract: Through years' development, Fosjoas has become a leader in the sector of electric scooter. In the market for scooter, Fosjoas is a household name to most people. Fosjoas K3 two wheel saddle-equipped scooter is a bona fide mixture of advanced tech.
In the eyes of scooter-lovers, it is the pick in the bundle. All over the world, there are a large customer base. Millions of loyal fans are concerned about Fosjoas. In the market for scooter, Fosjoas is a household name to most people. Fosjoas electric scooters are exported to dozens of countries in a gross annually. Its sales volume rocket sharply per annum. From these micro-data, Fosjoas intelligent electric scooter still keeps and will keep a high momentum for years to come.
The designing concept for Fosjoas K3 electric scooter with seat is to pursue the detailed aesthetic and excellence of quality. The extremely simplified structure and delicate appearance show the personality oriented designing concept of Fosjoas. The hydraulic suspension, tech of connection into the mobile phone and etc. are wrapped into Fosjoas K3 self-balancing 2 wheels scooter.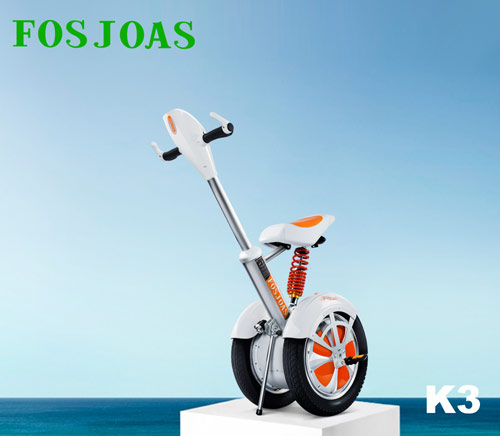 Fosjoas K3 2-wheeled electric scooter is installed with stainless steel pedals to hold feet of a rider and silica gel handlebars for hands. One can have an easy and comfortable ride all along owing to such a design. In contrast, riders are apt to get tired on scooters released before Fosjoas K3 since they are all standing-posture models. Fosjoas K3 two wheel self-balancing electric scooter will prove to be a solution to this problem.
Fosjoas K3 sitting-posture electric scooter, different from the previous models, adopts sitting posture and the V-shaped seat perfectly matches the sitting postures. The hydraulic suspension systems of K3 are also adopted in professional scrambling motorbikes. So such system under the seat of K3 intelligent electric scooter will greatly abate vibration and bumps. The battery of Fosjoas K3 is powerful enough to support a long-distance trip for riders. On the other hand, riders are recommended to pay proper attention to battery status.
To conclude, Fosjoas K3 two wheel electric walkcar is a bona fide mixture of advanced tech and it lives up to be representative of Fosjoas.