What Can Fosjoas Electric Scooter Do In Front Of Traffic Jam
Source:Fosjoas begin Time: 2016-11-02
Abstract: In eyes of the city dwellers, the biggest bugbear is nothing but the traffic jam, especially in morning rush hours. Fosjoas electric mobility scooter is small and lightweight, letting you avoid the heavy traffic.
There is a huge disparity in prices of different brands of intelligent electric scooters. The most popular electric scooters must be affordable for the public. Therefore, some high-end brands have been ruled out. Taking into consideration the quality, outer design and other features, there are only several competitive brands, which deserves attention. Many designers recommend Fosjoas electric mobility scooter.
Because of the high pressure from work, the modern city dwellers and those young office workers tend to get up not as early as the older generation. They leave themselves extremely less time so that they have not much time to have breakfast. They have to hurry to the workplace against the clock. Worse, many people are suffering from sub health. As for those who drive to work, the another annoying bugbear arises. Now, there an outlandish device emerging in the market, that is Fosjoas electric self-balancing scooter. Fosjoas electric scooter came as a sensation for the whole market. The moment Fosjoas came out, a host of buyer furiously strived to get them.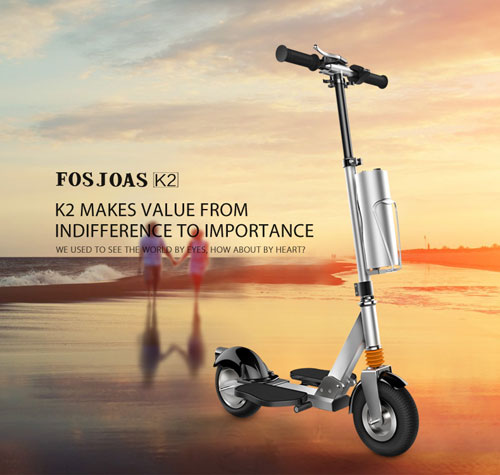 Fosjoas electric scooter is small in size and light in weight. Once the road is crowded in the rush hour, one can weave in and out of the traffic with ease by riding Fosjoas electric scooter. Take Fosjoas V6 electric unicycle and K2 smart electric scooter for example. V6 is quite smart and small, which weighs merely 9.7 kg. And Fosjoas K2 is known for the battery design and folding system. The battery pack mounted on Fosjoas K2 is up-equipped. With the battery design, people can ride K2 no matter on rainy or sunny days without worrying about any damages caused by weather conditions. More importantly, one can easily carry K2 foldable electric scooter onto the bus or the metro. There is no need for the riders to worry about the traffic jam.
For those sedentary workers, they are in bad need of the work-out after work to relax their fatigued mind and body and they can try Fosjoas intelligent electric scooter.