Fosjoas 2-Wheeled Electric Scooters V9 And U3 Are Well Acclaimed In The Market
Source:Fosjoas begin Time: 2016-11-11
Abstract: In the current market of scooter, electric scooter plays an important role. Of these scooters, Fosjoas intelligent electric scooter is the most telling. Fosjoas V9 is the first model of 2-wheeled electric scooter by Fosjoas.
Two wheel self-balancing electric scooters are not the first models of Fosjoas. In early year, Moben Global Inc. pushed out Fosjoas as the core brand and at the same time, it released V6, V5 and V8. Just these days, Moben Global Inc. unveiled its electric self-balancing scooters V9 and U3. When it appeared in the market, it caused a big sensation. Many people panic bought them. After soon, Fosjoas U3, the modified version of V9, came out. It inherited some elements from V9 and made some breakthroughs at the same time.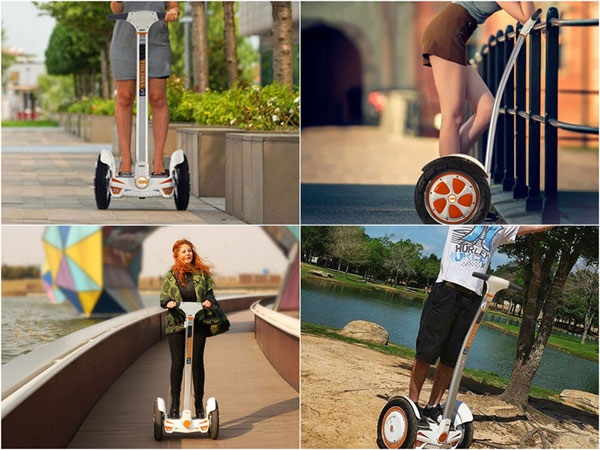 Fosjoas such as V9 and U3 2-wheeled electric scooters use the two-wheeled hub system. The two large wheels are mounted on both side of Fosjoas, which help the scooter effectively keep balance in the process of cycling. It boasts its ease of use. As for a beginner, it takes merely 1 minute to master the scooter. One can steer it as soon as he stands on the standing board of Fosjoas. Just because of that, this kind of two-wheeled scooter is catching on in the market.
There are some similarities between V9 and U3, but U3 also has its own improvements and refinements. Therefore, it is safe to say that U3 is the successor of V9. U3, the new born in this family finally come out. It is typical of personal exclusive SUV scooter. When it comes to the battery, Fosjoas U3 standing up electric scooter adopts 680 W Panasonic battery, which provides larger power storage capacity and longer range than V9. Because of that, you do not need to worry about the blackout halfway accident. Also, the long-distance trip is no more than a piece of cake to U3. Like any other Airwheel products, U3 with foldable shaft can be stored in limited space. And a user can carry it anywhere easily since it occupies only a tiny space in the car.
Fosjoas electric walkcar will keep moving in technology and design. More products will be unveiled to the public.