Fosjoas V2 Self-Balancing Electric Scooter Is Girl's Confidante.
Source:Fosjoas begin Time: 2016-11-21
Abstract: Despite the occasional accidents caused by shoddy electric scooter, the electric scooters produced by reliable and responsible manufacturers can be trusted, and Fosjoas V2 self-balancing electric scooter is an ideal choice for girls because of the exquisite and trust-worthy design.
Nowadays, intelligent electric scooter becomes more and more popular among young people. It is frequently-seen that many young boys and girls weave in high streets and bike lanes with small electric scooters. Under Fosjoas, there are many different types of electric scooters, because its target consumers are expanded to all people. When it comes to the one that is suitable for girls, Fosjoas V2 electric self-balancing scooter must be the best choice.
Unlike V6 one wheel scooter that requires riding skills and better physical coordination, Fosjoas V2 twin-wheeled electric scooter provides an easier way of riding due to its twin-wheeled designs for wider contact area. It is a great stride to transform from the single wheeler into the twin wheeler. This twin-wheeled structure facilitates balance as well as user-friendliness. The two-wheeled design offers much more stable and comfortable riding experience.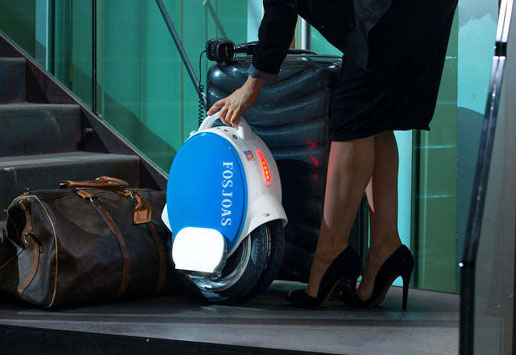 The lovely figure of Fosjoas V2 electric scooter has attracted so many girls. Instead of being designed with traditional black and white, V2 electric self-balancing scooter manifests its personality with its bright color, upgraded performances as well as stronger momentum. After all, exquisite and fashionable appearance directly influences girls' buying behavior. The cushion pad with two color choices-azure blue and lime green, is full of energy and youth.
More importantly, the equipped lithium-ion battery is free from fire and explosion, and it enjoys higher work efficiency and longer useful life than common lead batteries. It can take girls to any place. It can be a transport for work or school. It is also a partner in girls' spare time. And V2 standing up electric scooter is well welcomed by those female riders who love body-building. Besides, Fosjoas specially adopts speed-limit system in the intelligent chip. If V2 intelligent electric scooter exceeds the speed limit, the pedals will raise and send out alarm to warn riders.
All in all, Fosjoas V2 mini electric scooter seems as a bestie that can accompany girls all day long.