Fosjoas K3 Saddle-Equipped Scooter Makes Travel Much Safer and Enjoyable
Source:Fosjoas begin Time: 2016-11-22
Abstract: The explosion incidents of electric scooter happen now and then. As a human-oriented enterprise, Fosjoas is devoted to reducing any potential safety loopholes and providing the safest ride for users. Fosjoas K3 saddle-equipped scooter makes travel much safer and enjoyable.
Some of them caused severe injuries and even deaths. Therefore, people who ride electric scooters every day start to worry about their own safety. Then, Fosjoas K3 sitting-posture electric scooter is the ideal choice for office workers, which not only ensures riding safety, but also makes travel much more enjoyable.
Fosjoas K3 self-balancing electric scooter has nothing to do with explosion. The adopted high-end lithium-ion battery has been through various strict tests so as to make sure stability and safety during riding, charging and transportation. Compared with ordinary lead batteries, this lithium-ion battery enjoys higher work efficiency and longer service life.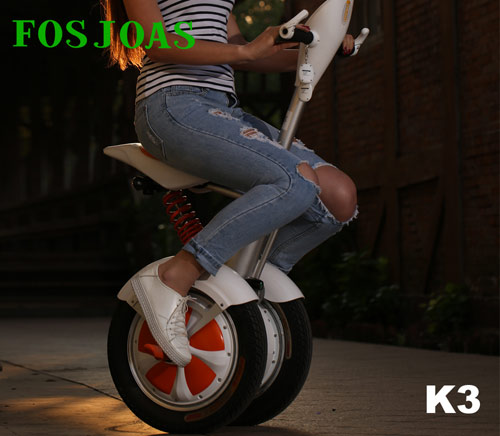 Meanwhile, K3 is equipped with a comfortable leather saddle. Before the release of Fosjoas K3 saddle-equipped scooter, riders can only stand, which can be fatigue after a good time. So the long-distance trip is impossible. However, riders now could comfortably sit on the leather sadder, lay their feet on the stainless steel pedals and hands on the silica gel handlebars. The sitting-posture riding mode ensures comfortable riding experience, which makes long-distance travel be possible. What's more, it can help them avoid traffic jam in rush hours.
Fosjoas K3's functions including speed limit protection, low battery protection, tilting protection and safety instruction ensure that consumers enjoy a safe riding experience, and consumers' safety also means that K3 is well protected and has a longer equipment life. In addition, the innovative three systems largely guarantee the riding safety of Fosjoas K3 2-wheeled electric scooter. Electronic brake system offers quick and accurate brake with only 50mm stopping distance, and the brake button is beside the handle that gives safe and easy operation. Hydraulic suspension system aims at absorbing the vibrations so as to ensure comfortable and stable riding experience. When it comes to automatic steering sensor system, it is used to protect rider's safety during the night riding.
It seems as if K3 is larger than others. Actually, its floor space is just a piece of floor board according to practical values. All in all, high safety and enough range make Fosjoas K3 electric scooter the first choice of the public.