Fosjoas U3 2-Wheeled Electric Scooter Is an Excellent Helper for Outdoor Exploration
Source:Fosjoas begin Time: 2016-11-22
Abstract: As known to all, the 2-wheeled electric scooters can be termed as the climax of Fosjoas technology and design. Moben once again unveiled another revolutionary model U3, an upgraded version of 2-wheeled electric scooter.
With the increase of the material life quality, people prefer to relax themselves by a comfortable way and travelling around is the top choice. Generally speaking, people will travel around the city for several days so as to thoroughly relax themselves from fast-paced life. At this moment, Fosjoas U3 intelligent power scooter will be an excellent helper, which makes travel free and joyful.
The current U3 is based on Fosjoas V9. Being the predecessor of U3, V9 serves as the prelude to the advent of U3. A more powerful 1500w motor provide U3 with more strength while traveling. U3 is powered by 680Wh lithium-ion battery. Fosjoas U3 2-wheeled electric scooter is equipped with two 16-inch tyres that have specially-designed tread patterns which pave the way for stronger grips and better adaptability to various tough road conditions, such as mountain road, countryside path or even desert.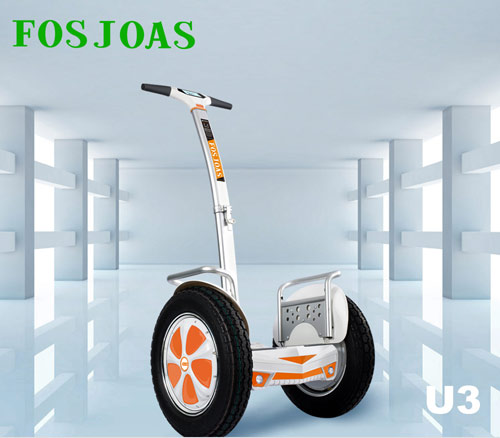 Meanwhile, Fosjoas U3 is also equipped with high-quality sound chamber, which can be connected with cell phone and play the beautiful songs in it. Then, the journey will be not only relaxing, but also joyful. People have two travel modes. The one is to ride Fosjoas U3 to travel around directly, but the precondition is that the destination is not far. The other one is to drive private car and put Fosjoas U3 self-balancing electric scooter in trunk. With regards to its appearance, it is made by foldable aluminum alloy, which is lighter, harder and more durable. When get to the destination, people can park the car and ride U3 electric standing scooter to enjoy the beautiful nature.
Generally speaking, fatigue often comes from the boredom for changeless life. Going out frequently and getting to know more fresh things and people will contribute to regaining enthusiasms and adjusting emotions. Then, your soul gets the real rest. Fosjoas U3 standing up electric scooter is an excellent helper for outdoor exploration. As the refined model, U3 offers riders the wild riding experiences that previous electric scooters never had.