Fosjoas Self-Balancing Electric Scooter Is In Vogue
Source:Fosjoas begin Time: 2016-11-23
Abstract: Air pollution control is no easy task. As a reputed company with social reasonability, Fosjoas self-balancing electric scooter is devoted to making contributions to the environmental protection through developing eco-friendly products. The wide acceptance is sufficient to prove the great popularity of Fosjoas.
The whole sector of electric scooter is developing at a rapid speed. In the market, a good many scooter-makers sprung up overnight. Moben was one of them. Now Moben has come to prominence through years' development with the help of its core brand Fosjoas. When the human body leans backward, the gyroscope will response to produce the momentum backward in order to keep balance. Therefore, Fosjoas electric self-balancing scooter riders can easily control the scooter by body movements, leaning left and right to control the directions and leaning back and forward to move or retreat.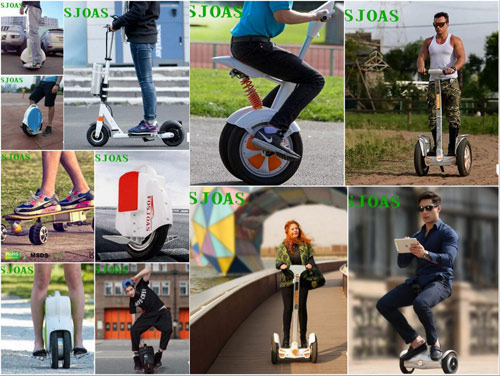 One of important factors explaining the popularity of Fosjoas is the dashing design. The young scooter-lovers constitute the majority of customer base of Fosjoas. To win over the support of the young is crucial to Fosjoas. The young all like stylish and interesting things. Therefore, Fosjoas has to possess its characteristic attraction to allure the young. The first step is natural to embark on the design. The product of stylish design tend to attract the young. Moben created a stylish Fosjoas. Contoured and sleek, Fosjoas self-balancing electric scooter shows the stylish charm and fashionable technology.
In order to meet the demand of so many different scooter-lovers, Fosjoas has to roll out various models. Up to now, it realized electric unicycle, 2-wheeled electric scooter and electric drift hover board and so on. Some pro players go for the electric one wheel. Some common players choose the twin-wheeled electric scooter. On other occasions or in workplace, it is usually easy to see Fosjoas 2-wheeled electric scooter. Some white-collars always envy others' free life showed on the network. In fact, whether life or scenery, they won't feel them by watching the screens. So why not ride a Fosjoas intelligent electric scooter to have a trip without delay?
Apart from that, Fosjoas intelligent electric scooter has adopted a built-in intelligent chip which provides speed limit protection, low battery protection and tilting protection. The above reasons are main ones.