Small In Figure, Big In Function—Fosjoas U1 Saddle-Equipped Scooter
Source:Fosjoas begin Time: 2016-11-25
Abstract: Among current self-balancing electric scooters, the smallest and also the most exquisite type must be Fosjoas U1 electric scooter with seat. Although it is small in size, it is big in functions, applications and consumer base.
Fosjoas aims at designing various electric scooter types with powerful functions and applications so as to satisfy daily travel needs of people. 2-wheeled electric scooter is one of the most popular series, for its powerful engine and big battery. However, a large number of lovers are eager to have a more foldable and portable scooter. That is exactly what Fosjoas U1 can do.
Fosjoas U1 mini electric scooter was published in last new product release conference and has attracted lots of consumers from different age stages thereafter. Although it has small figure, its internal function, application and consumer base is never inferior to others. Maintaining the superior performance, Fosjoas U1 saddle-equipped scooter aims to compact its body and improve its functionality.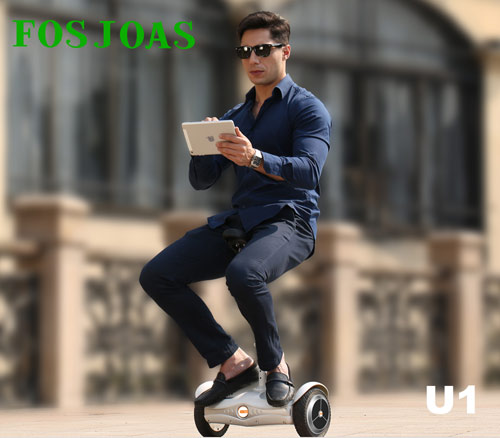 Two small but powerful 8-inch tyres benefit strong power and the tailor-made tread pattern improves the adaptability to some tough road conditions. At the same time, Fosjoas U1 offers enjoyable riding experience, which benefits from double riding modes, including standing-posture riding and sitting-posture riding. U1 sitting-posture electric scooter is equipped with a rise-and-fall saddle. If riders want to sit, they can pull out the saddle. Riders also can press it down if they want a standing riding.
Though adding a saddle, U1 only weighs 14 kg, which is a good choice for people who want a smaller but powerful scooter. In order to highlight the lighter and stable character, Fosjoas U1 uses the combination of aluminum alloy, Lexan and magnesium alloy in the material for the bodywork. Then, riders even can carry it by hand or put in a bag. But, its maximum load capacity is as high as 100kg. Meanwhile, people whose height is ranging from 1.5m to 2.1m can ride Fosjoas U1 self-balancing electric scooter at ease.
Rider can enjoy the overall view before him with Fosjoas U1 mini electric scooter. Without the shaft, it is more space-saving and owns a better view. It soon becomes a device suitable for sightseeing. Wide applications and big consumer base are two important factors in bright market prospect.