Why Has Fosjoas Electric Scooter Gained Success
Source:Fosjoas begin Time: 2016-11-28
Abstract: These days, a good many scooter-lovers are into Fosjoas. It goes to show that Fosjoas gained a wide currency. Why has Fosjoas electric scooter gained success?
Since the establishment, Fosjoas rolled out a host of self-balancing electric scooters. From the early electric one wheel to the current 2-wheeled electric scooter, their arrival all caused a sensation in the market. Why has Fosjoas mini electric scooter gained success?
The roaring success of Fosjoas is closely related with the innovation. The continuous release of new products is contingent on the notion of creativity. If one has no notion of creativity, there is less chance that it will produce more new products. From V6 electric unicycle, V2 twin-wheeled electric scooter, U3 2-wheeled electric scooter, K3 two wheel saddle-equipped scooter, to K1 electric drift hover board and K2 foldable electric scooter, Fosjoas keeps up with times.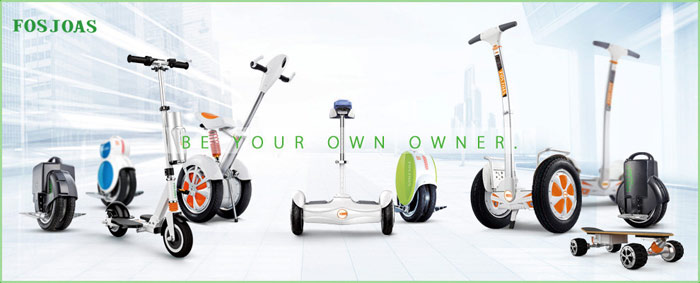 On the other hand, the currency and acceptance both at home and abroad should firstly owed to the premium materials of Fosjoas electric scooter. The quality of materials is the key to a product. The substandard material usually mars the brand of product and even causes danger. Moben attached a great importance to the quality of materials. It uses the new PC materials in products. This kind of PC materials can effectively resist the impact and stand up to wear and tear. Also, the lithium battery is well-known branded featured by longer service life and higher quality than others. If the rider has to worry about the issue of safety as he rides Fosjoas intelligent electric scooter, his enjoyment has to be reduced.
In addition paying great attention to the material, Fosjoas is still attentive to the feedbacks from the end users, for the end users have the every right to air their feedbacks about the riding experience and advice about the modifications. The customers are the end users. Their personal experience is most telling. The final goal of producing intelligent electric scooter is to meet the demand of end users. Their suggestions or advices are beyond price. Moben placed a massive emphasis on their feedback. The positive feedbacks are a courage to the team of R & D of Moben. That makes for the success of Fosjoas electric walkcar.