Enjoy the Unique Winter Beauty with Fosjoas U3 Electric Standing Scooter
Source:Fosjoas begin Time: 2016-11-28
Abstract: Winter's beauty is often ignored by people, because coldness in the open air makes them prefer to stay at warm home. But now, many people can't help going out even in cold winter because of Fosjoas U3 intelligent power scooter.
Finally, the long-expected winter with snows comes to us. In the morning, a lily-white world leaps to the eyes once people draw back curtains. That is so beautiful. Maybe, lots of people are unsatisfied with staying at home. Here comes a problem: how can they blend in beautifully snow-covered landscape? Walking is too laborious, while bicycling or driving a car is too dangerous because of slippery road condition. At this moment, Fosjoas U3 self-balancing electric scooter is the optimal choice.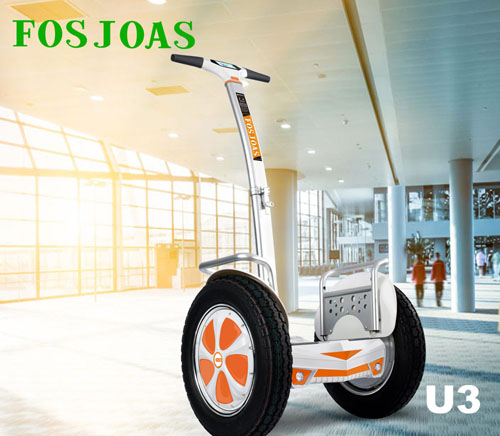 Fosjoas insists on conveying the multiple and high-end electric scooter culture to the public. Fosjoas U3 intelligent power scooter is highly praised as the ATV, which embodies three features, including large tires, big battery capacity and long range. When it comes to large tires, Fosjoas U3 is equipped with two 16-inch tires. Large-size tires pave the way for stronger road holding capability. Meanwhile, the surface of these two tires is made into special tread pattern, which ensures good heat dissipation and water discharging, and also better adaptability to difficult road conditions. Fosjoas U3 standing up electric scooter can smoothly and stably run on frosty road in winter.
Big battery capacity provides sufficient power for journey. Fosjoas U3 adopts 680Wh lithium-ion battery that sustains long range if fully-charged that makes long-distance journey be possible. Fosjoas U3 2-wheeled electric scooter also makes the travel in winter exciting and wonderful. It is equipped with high-quality sounder chamber and it can play the melodious songs in rider's phone. Then, riders will have a happy mood during the journey.
Other than that, Fosjoas U3 electric self-balancing scooter also has a 4-inch LED displayer, which can clearly show real-time data, including current speed, outdoor temperature, residual battery and total mileage. Then, people can ride it to appreciate the winter at ease. And also due to the lighter yet solid aviation alloy, the control shaft is designed to be the foldable and replaceable shaft, which saves much storage space for riders.