Fosjoas V6 Electric Unicycle Is Proud Of Its Flexibility and Utility.
Source:Fosjoas begin Time: 2016-11-29
Abstract: Amongst all models of Fosjoas, one wheel scooter V6 is the classic one that exemplifies the ultimate in the Fosjoas electric self-balancing scooters. Fosjoas V6 electric unicycle is proud of its flexibility
In recent years, electric scooter industry is booming. At the same time, the new electric unicycle groups have also sprung up. The brand that most young players sought after is Fosjoas certainly. Amongst all models of Fosjoas, V6 one wheel scooter is the classic one that exemplifies the ultimate in the Fosjoas.
Fosjoas V6 is especially designed for the public who desire for a more convenient and fashionable life. V6 mini electric scooter uses high-tech and qualified material and tires, which ensures a safe and comfortable riding experience. The most exciting breakthrough is its innovative single wheeled design, which makes it light and easy to carry. Also with only one wheel, they are the lightest vehicles in Fosjoas products.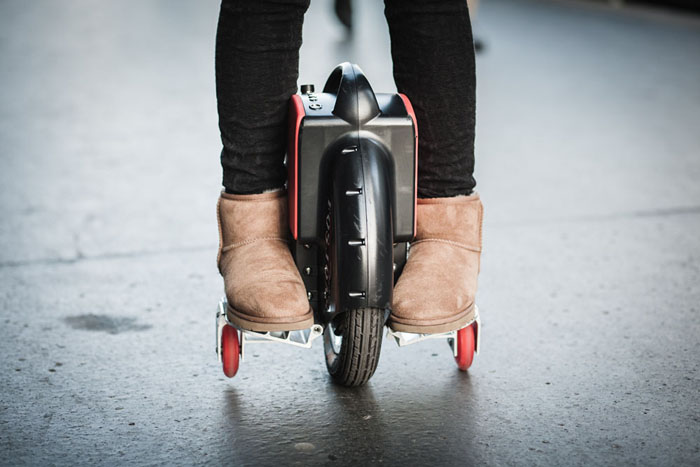 Young people easily fall in love with V6 due to its fashionable and stylish riding model. Commuting is a complementary function of V6 for those young riders. So for office workers and students, they are the best choice because they are easier to carry. Besides the function of resolving the issue of traffic jam, it can also be regarded as a way to work out. Fosjoas V6 self-balancing electric scooter has the ability to build up the body, as it is controlled via the body movement by adopting the aerospace attitude control theory, fuzzy software algorithm and gyroscope system to realize self-balancing.
Although it will take more time for customers to learn to drive V6, it will help customers to get adapted to it more quickly than they imagined. More importantly, it will arose the riders' great sense of achievement. Furthermore, Fosjoas V6 electric unicycle is more suitable for skill showing than bicycles that caused many extreme activity lovers give their preference to electric unicycles. Many cool movements, like jumps, speed turn, single-leg riding, and linking-legs revolving, make you the coolest extreme players on the street. Creative Fosjoas V6 players also created usages like pushing the baby carriage, walking the pet dogs and so on.
No doubt, Fosjoas V6 electric one wheel is proud of its flexibility and utility.