Fosjoas U3 Intelligent Power Scooter Is the Ultimate Model
Source:Fosjoas begin Time: 2016-11-30
Abstract: Fosjoas U3 2-wheeled electric scooter not only inherits advantages of V9 but also makes impressive improvements. Wilder appearance lays a good foundation for riders' exclusive private SUV. Fosjoas U3 intelligent power scooter is the ultimate model.
U3 is still consistently a hit to the populace, particularly the young. The high momentum is expected to linger for quite a long time. Therefore, the masses resist asking what sets U3 apart from other models of Fosjoas. U3 2-wheeled electric scooter is fitted with the two-wheel, preventing U3 from falling over or tripping. The embedded gyroscope system further enhances the stability. In addition, under the protection of warning system that serves to avoid high speed, users can zoom about with ease when they ride on U3. These built-in safety mechanisms dispel users' concerns.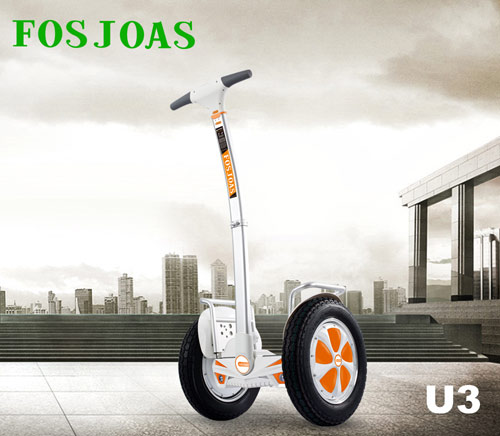 In terms of position, U3 is positioned as a personal ATV, which denotes that U3is disposed to embrace the wild and overcome tough paths. The equipment of the wing goes some ways toward shielding the body from dirty water. The design idea as U3 focuses on the tough nature of man, who braves to everything formidable and squares up to everything. U3 standing up electric scooter has the tires of characteristic solid texture and width, so no matter what terrain it is, desert, mountain land, or gobi, U3 can conquer all of them.
To meet the demand of position, U3 is naturally outfitted with a most powerful battery group, which is a worldwide famous electronics manufacturer. With the help of the potent force, Fosjoas U3 can negotiate any terrain at will. However long the trip is, U3 electric standing scooter will always shrug it off. Nowadays, U3 is widely used in some environmental sectors. In some important occasions, U3 usually comes to people's sights, for example sport meetings and trade fairs. U3 will be imaginably applied to more workplaces and activities in the future.
Overall, U3 two wheel self-balancing electric scooter is created to be the most powerful SUV scooter for those who love off-road traveling experience. In the future, there are more technologies and innovations to be added to the future models to perfection. These upcoming models are worthwhile to wait for a try.