Fosjoas K1 Electric Drift Hover Board Makes Life Wonderful
Source:Fosjoas begin Time: 2016-11-30
Abstract: Skateboard is one of the extreme sports. It was developed from surfing in 1960s. And now it has become the coolest sport among young people. The emergence of Fosjoas K1 electric drift hover board makes life wonderful.
Many people, especially young people, are eager to try new things. Take the skateboarding, a popular sport, for example. In recent, Fosjoas, the leading electric self-balancing scooter brand, has broken the tradition and made a fire-new skateboard-K1. The advent of Fosjoas K1 electric air board makes people's life wonderful.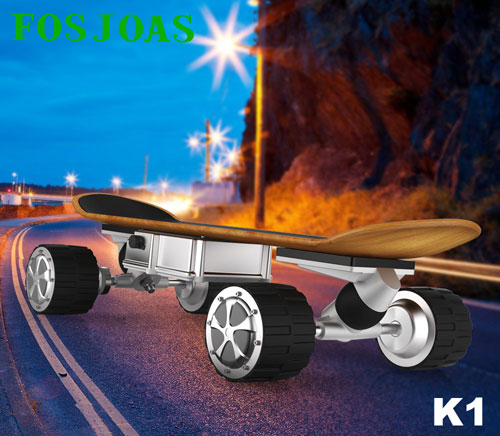 When it comes to the appearance, it is too exquisite to express in the words. The board is purely hand-made by world-famous designer. Skating it on roads is really cool. Fosjoas K1 self-balancing air board is different, because it is self-balancing realized by adopted intelligent chip, aerospace attitude control theory, and fuzzy software algorithm and gyroscope system. Based on built-in gyroscope system, the dynamic state the vehicle body is able to be controlled, and then the smart chip will operate the calculating and send instructions to the drive motor to make adjustment and ensure the long-term dynamic equilibrium. With such a system, even the beginners can easily master riding within several minutes, which does not require extremely high skills.
The power that supports those controls comes from advanced lithium-ion battery, which enjoys longer service life and high working efficiency. Meanwhile, relaxing skating attracts more people to join in the ranks of Fosjoas K1 electric skateboard. Besides the role of entertainment, Fosjoas K1 electric drift hover board also can be used as a short-distance travel transport and it can take people to attend a party, meet friends or even go to school or to work.
Besides, Fosjoas K1 motorized skateboard is also equipped with a 2.4G wireless variable speed remote control and thus it is easier to be controlled. In order to ensure smooth and stable skating, TPU material damper masses are installed on both front and rear wheels. More importantly, it has an exclusively-designed App that can be downloaded from official website and installed in the phone. Then, the real-time state can be read from phone and some controls, like turning on and off the light, locking and unlocking, can be finished by phone, too.