To Have A Worry-Free Long-Distance Journey with Fosjoas K2 Foldable Electric Scooter
Source:Fosjoas begin Time: 2016-12-05
Abstract: Nowadays, the visitors are swept past various wonders. As a result, they cannot enjoy the beauty truly. May be you need to slow down your pace. If the attraction is near, please do not rely on the private car, ride Fosjoas K2 standing up electric scooter instead.
Travel should be the process of slowing down gradually. Within a day to visit most of the city's scenic spots, to take a photo to stay a souvenir and to prove that you have been there is not a travel. However, a suitable tool plays a key role in relaxing travelling. Among current transports market, Fosjoas K2 electric standing scooter offers comfortable riding experience and unlimited range, which is the best choice for travelling around.
Fosjoas K2 standing up electric scooter adopts front-riding mode with front and back wheels and two pedals on flank, which caters for human engineering and makes riding comfortable. It is also equipped with an adjustable operating arm, which can be adjusted according to the height of riders so as to offer the most comfortable riding experience. Plus, it offers the maximum loading capacity of 100kg. Therefore, most of people are able to ride Fosjoas K2 intelligent e scooter at ease.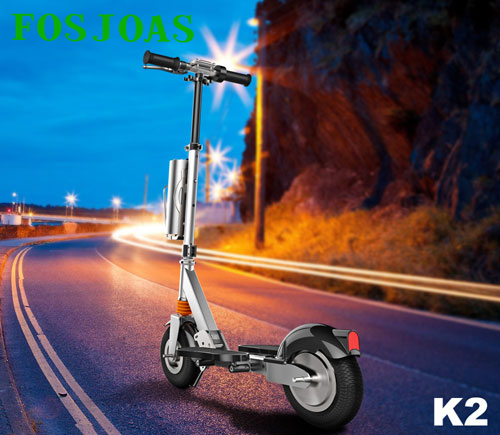 Up-equipped and replaceable battery unit is the most outstanding highlight of Fosjoas K2 that provides people a worry-free journey. The up-equipped feature makes K2 2-wheeled electric scooter suitable for all weather conditions and road conditions, whether it is rainy day or muddy road. Replaceable characteristic offers unlimited range, which makes long-distance travel be possible. Fosjoas K2 mini electric scooter has two battery capacities: 81.4Wh and 162.8Wh. If the distance is too long, riders can take more speared batteries.
In addition, Fosjoas K2 foldable electric scooter has multiple folding systems and thus it can be folded into small size and put in trunk easily. The folded K2 only covers only 1/2 of the trunk which can be easily stored in home, workshop and trunk. With the brake assist systems, riders can increase the brake force to shorten braking distance.
To conclude, Fosjoas K2 mini electric scooter is to give riders a worry-free long-distance journey.