Fosjoas K2 Foldable Electric Scooters Are Girls' New Lovers
Source:Fosjoas begin Time: 2016-12-06
Abstract: Moben has rolled out a brand new model, Fosjoas K2 foldable electric scooter. It looks so different from other Fosjoas intelligent electric scooters. It's fashionable, small and light. Girls will love K2.
Moben is an innovative and user-friendly company. To meet users' various needs, it continues to launch new models. One of the new products is Fosjoas K2. Moben designed K2 lightweight electric scooter for modern girls in cities. Since they came into the market, they have been many girls' new lovers.
The appearance of K2 is so different from the former Fosjoas models. It looks fashionable and small. Fosjoas K2 2-wheeled electric scooter is designed in front and rear wheels. So to some extent, K2 is like a bicycle. With the anterior standing design, it accords with principles of ergonomics, and changes the side standing which easily cause fatigue. Fosjoas K2 adopts famous customized tires. Although the tires are 8-inch, they are designed to be bumpy-pattered for stronger road-holding performance.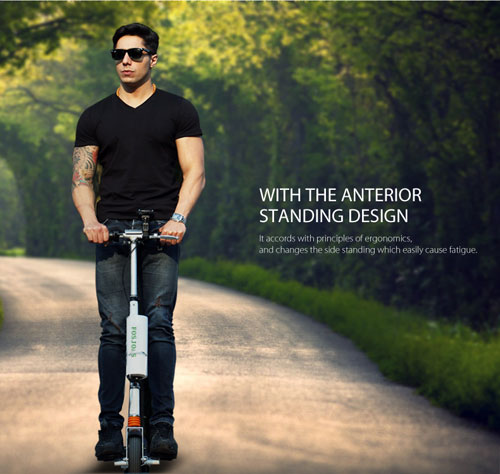 In addition, Fosjoas K2 electric standing scooter has adjustable operating arms. Girls can adjust the height of joystick as they like. Many Fosjoas fans know that the battery groups are always hidden in the bodies of electric scooters. However, the industrial designers put K2's replaceable battery groups on the operating rod. Thus, girls will never be worried about running out of the electricity on the halfway since it's easy to change the battery used up. The up-equipped battery group makes K2 be suitable for all weather conditions.
Fosjoas K2 foldable electric scooter continues the good portability of former models. They have perfect fold systems. The bodies of K2 are made up of magnesium alloy materials, which make it light yet solid. The pedals and joysticks are foldable as well. When girls want to change another vehicle on the way, Fosjoas K2 can easily be folded to put into bags. Moben designers added two handle bars with brake assist systems to Fosjoas K2. When there is a sudden emergency, girls can increase the brake force to shorten braking distance. When users want to turn, they just need to turn the handlebars. Both safety and directions lie in users' own hands.
Fosjoas K2 mini electric scooter helps girls become more fashionable and slimmer on the street.