Fosjoas V2 Mini Electric Scooter Is a Cute Elf on Campus
Source:Fosjoas begin Time: 2016-12-08
Abstract: Riding a bicycle is a popular travel mode among university students. However, parking and riding safety are two obvious problems. Now, there is a safe and free travel mode for students, which is riding Fosjoas V2 mini electric scooter.
Usually, campus is too big and a transport is needed by most of students. On the other hand, common transports, like bicycle, motorcycle or car, are not safe in some degree. The advent of Fosjoas V2 thoroughly solves the travel need within campus. V2 twin-wheeled electric scooter is small in size and light in weight, but convenient in riding. Weighing 11.5kg, V2 is 530mm tall, 373mm long and 185mm wide. Equipped with 14-inched tires, V2 would satisfy most users' demand.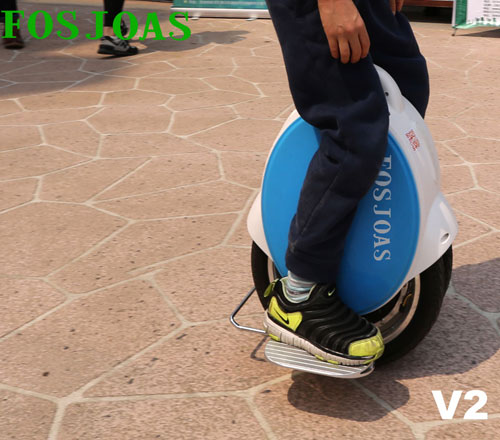 Fosjoas V2 is powered by 170Wh branded lithium-ion battery, which is enough for a student's one-day journey inside campus. Then, students can get to classroom or canteen much more quickly than before, which saves them much valuable time. The pedal of Fosjoas V2 electric standing scooter is of the sharp of roundness in case of scratches. Riders will not hurt their ankles even under the circumstances that the electric unicycle inclines due to the emergency. The round pedal also adds the contact area for riders, so they can stand on the pedal more stable and safety. Fosjoas V2 is also equipped with LED breath lights which is shiny at night and is cool to ride.
Besides, during the riding course, the four limbs, backbone and whole body will get fully exercised. Students belong to sedentary group and often bend over desk to study. Gradually, many students will be troubled by sore backbone and muscles. Riding Fosjoas V2 self-balancing electric scooter is helpful to keep students healthy. In order to protect the personal safety during riding, V2 has speed protection system. When the speed surpasses 12km/h, the front part of pedals will rise slowly so as to stop further acceleration. Once the speed reaches 16km/h, the rising angle is close to 10 degrees and leaning forward can't realize acceleration. Therefore, riding V2 within campus is worry-free.
Above all, Fosjoas V2 mini electric scooter is a cute elf on campus and it enjoys great significance for students.