Fosjoas U3 Intelligent Power Scooter Adds Much Fun to the Family BBQ Party
Source:Fosjoas begin Time: 2016-12-10
Abstract: Holding an outside party is full of fun if you take Fosjoas U3 with you. Prepare all the food for BBQ and imagine standing at U3 intelligent power scooter, or listen to a wonderful music. How happy it is!
Home parties are common and there are various delicious foods, cool drinks and amazing dancing during festivals. While outdoor parties are also warmly welcomed. Actually, family members can go for a wider and wilder place to experience a different BBQ big party with self-balancing electric scooter. Fosjoas, a noted scooter brand is able to give you an unforgettable experience. You will eager to see what Fosjoas U3 can do for you in your happy hours.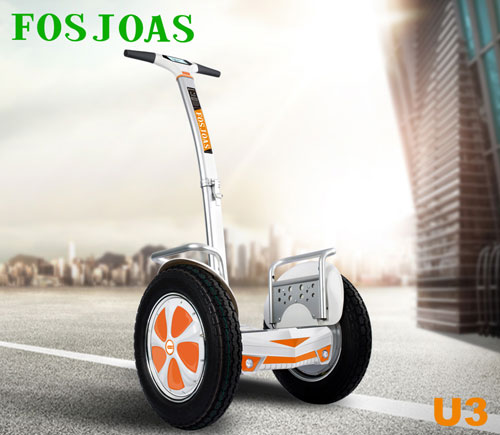 Fosjoas U3 2-wheeled electric scooter has a special fender made of aviation aluminum to prevent from mud in the process of riding. This kind of material has strong power to against striking and it can bear a lot of kilograms. You can not only use it to hang the devices for carrying necessities, but also can use it to carry some heavy things. When you want to move the barbecue tools to your ideal place, it is time for U3 to show its importance. When you are carefully preparing for the foods, why not let children have a try to satisfy their curiosity.
Plus, Fosjoas team invests a lot to the design to make sure users can ride U3 electric mobility scooter safely. It is installed with double intelligent cores and battery protection plates. The application of double ones makes the two cores and protection plates work independently. Even if one electric plate fails, another will take over it to slow the riding, which maximizes the safety of riders. Other than that, Fosjoas U3 is protected by various intelligent systems, for instance, when the speed is up to 12km/h, the limitation will be activated. The speed will not be higher no matter how the rider change his posture. It also sets the protective mechanism preventing sudden turnover of the vehicle.
Finally the yummy foods are ready. Now you can still ride Fosjoas U3 electric standing scooter to send those foods to your family members. What a happy scene it is!