An Innovative Way to Commute—Fosjoas K3 Saddle-Equipped Scooter
Source:Fosjoas begin Time: 2016-12-13
Abstract: Fosjoas K3 is the first electric scooter that supports sitting posture riding, which starts a new era of Fosjoas riding. Besides, Fosjoas K3 is considered as the future of daily commuting and alternative transport due to its marvelous quality and brilliant performances.
Fosjoas K3 can be considered as a milestone in Fosjoas development history because K3 is the first Fosjoas scooter that supports sitting-posture riding. With humanized design and high-tech advancements, Fosjoas K3 sitting-posture electric scooter provides a new effective and comfortable way of daily commuting.
Fosjoas K3 is able to provide a comfortable and labor-saving scooter riding experience due to its optimized design in accordance with ergonomics. Premium quality is another shinny point of K3 electric scooter with seat. The whole bodywork is made from magnesium alloy with elaborate and meticulous design details. The grand new wheels of premium quality enjoys great land-holding and anti-skid capabilities. Most importantly, the premium battery capacity also provides sufficient and sustainable power supply to K3, which ensures a smoother and better riding experience.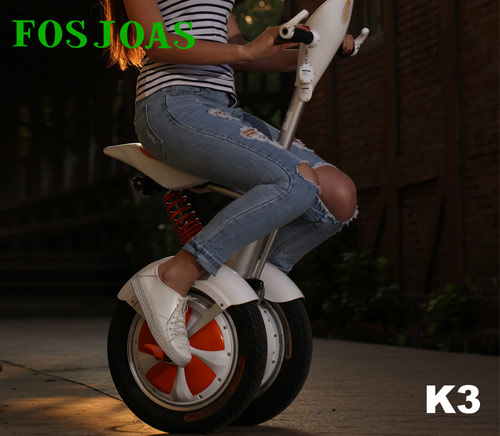 The sitting-posture riding and V-shaped saddle improves the riding comforts and alleviates relieve riders from the tiredness from standing-posture ridings. Moreover, the handle bar is covered by silica gel to improve softness so that riders can hold the handlebars easily and not feel cold when it's in cold weather. Most importantly, the saddle is 720mm distance to the ground so that one foot can relaxing touches the ground when the scooter stops. Riders can change riding postures during the riding for better comforts and relaxation. Riders are able to control the K3 saddle-equipped scooter by physical movements instead of pedaling and enjoy a relaxing and labor-saving scooter riding.
The 4-inch LED display screen shows the real-time data about speed, battery volume, temperature and total miles, so riders are well informed of working conditions of the running Fosjoas K3 intelligent electric scooter. Also, such functions can be realized via the mobile App. The powerful data processing and display functionality is a real attract for many riders because they can see how high-tech improves daily life with Fosjoas K3. And the automatic braking system can help riders react to emergent braking faster and safer.
In a word, K3 2-wheeled electric scooter is an innovative and safe way to commute.