Fosjoas U3 Intelligent Power Scooter Is a Personal All-Terrain Vehicle
Source:Fosjoas begin Time: 2016-12-17
Abstract: It is less than a month away from Christmas Day. Almost all parents are preparing Christmas Day gifts for their children. Except for children, every adult also expects gifts from others, including friends or relatives. Currently, Fosjoas intelligent electric scooters are catching on in the market.
Currently, Fosjoas electric scooters are catching on in the market. For example, Fosjoas V6 single-wheeled intelligent scooter, also named as electric unicycle is quite suitable for those scooter-lovers as gifts. The electric skateboard K1 fits youngsters. Is there any model can be serve as a gift for male grown-up? Fosjoas U3 intelligent power scooter, perhaps, is the likely model for them as Christmas Day gift.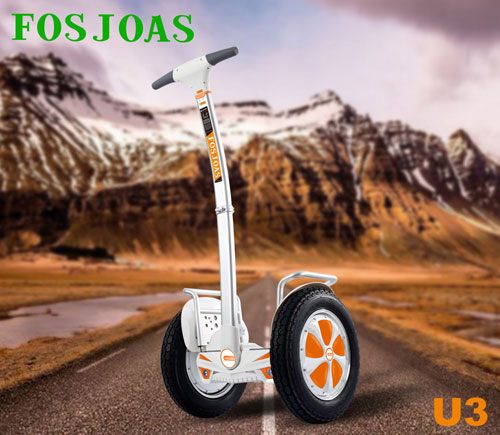 U3 shares some basic features with other models of Fosjoas two-wheeled self-balancing scooter. The obvious feature is its two-wheeled design, which offers an excellent ability to help the rider maintain the balance when the rider drives. Even if the receiver is a beginner in electric scooter, he will work up to steering U3 2-wheeled electric scooter smoothly as long as he undertakes a short-time practice. The practice or trial will not take much time. The ease of use surely will attract a good many people. It is the main draw of this model.
Fosjoas U3 standing up electric scooter is equipped with two tyres larger than V9. The two threaded tyres provide a strong grip when U3 scoots about on the road. Even though in the rain, U3 is not easy to slip when traveling at a high speed. Its top speed attains as much as 18 km/h. On the front is there a wing that is used for fending off water. Zooming about on the paths fraught with puddles after a torrential rain, U3 tends to splash rain water. The wing serves a better fender to prevent the dirty water.
Apart from the entertainment functions, Fosjoas U3 self-balancing electric scooter can be well applied into varied practical occasions, assisting to public security police, traffic police, and armed police in airport, warehousing, logistics where a speedy, powerful and durable transport is needed. To conclude, Fosjoas U3 intelligent power scooter is a personal all-terrain vehicle and will bring a totally different riding experience.