Actually, Fosjoas Has Two All-Terrain Vehicles—V6 and U3 Electric Standing Scooters
Source:Fosjoas begin Time: 2016-12-20
Abstract: The self-balancing electric scooter is an emerging market, full of novelty and individuality. In combination with the feature of cross-country, the electric scooter will capture a host of individuals' hearts and minds. Fosjoas has two all-terrain vehicles—V6 and U3.
Fosjoas electric self-balancing scooters are the newest type of transport vehicles. Fosjoas has produced many categories of scooters, V6 electric unicycle, V8 twin-wheeled electric scooter, 2-wheeled electric scooter U3 and the K3 and U1 with a saddle mounted. All the models have their own features and Fosjoas has two all-terrain vehicles—V6 and U3 electric standing scooters. All-terrain vehicles, just as the name suggests, can be rode on kinds of road conditions. Because of the complex terrain, people's off-road equipment is usually very different from other travels.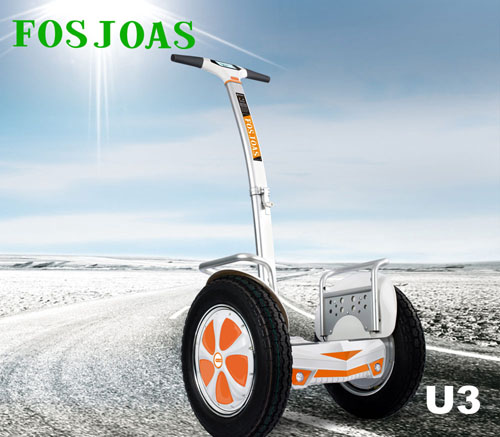 Fosjoas V6 is a kind of electric unicycle that is made of carbon fibre materials by adopting aerospace attitude control theory, fuzzy software algorithm and gyroscope system to maintain balance by leaning forward and backward. V6 one wheel scooter is characterized by the specially designed tires, which optimizes grip effect. This design better guarantees the safety and delivers a dynamic appearance. In spite of relatively larger size, V6 electric unicycle is light-weighted for its lighter shell. Fosjoas is the only version of the larger-sized unicycle, which is specially equipped with an intelligent power display board.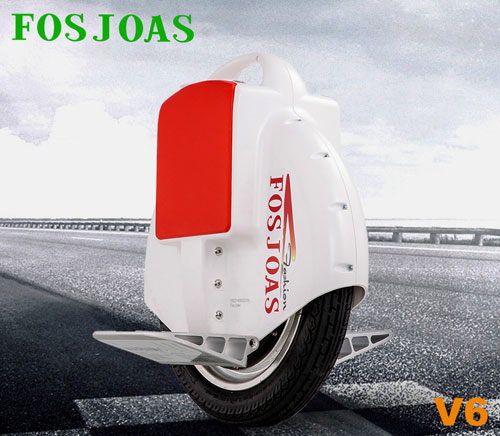 Different from the Fosjoas V6, U3 has a control shaft to control the directions. Equipped with two wheels and a handle bar, U3 standing up electric scooter can be conquered within minutes. It is worth to mention that the branded lithium battery mounted on U3, weighing 5kg, is safe and durable with 5 years of lifespan. The battery can store 680wh of electricity with around 8 hours of charging and can be re-charged for 1800 times. U3 electric self-balancing scooter is waterproof and dustproof and can be ridden in the drizzle as it is up to the IP56 Weatherproof Standard.
Both of them have mounted on multiple protections including speed limit protection, low battery protection, tilting protection, battery protection, voice alert to safeguard every travel. Overall, the strong performance of V6 and U3 self-balancing electric scooters make them ATV in Fosjoas.