Two Excellent 2-Wheeled Electric Scooter Models—Fosjoas V9 & U3
Source:Fosjoas begin Time: 2016-12-26
Abstract: As modern new type of vehicles, Fosjoas intelligent electric scooter can offer the energy-saving and environmentally-friendly ways of travelling. However, Fosjoas 2-wheeled electric scooters are especially welcomed by the public, like V9 and U3.
Among all the brands of electric scooters, the most famous and popular one is the Fosjoas. Fosjoas 2-wheeled electric scooters are especially welcomed by the public, like V9 and U3. For one thing, both of them were designed with two wheels, representing a great innovation then. This kind of electric self-balancing scooter is easily to operate. The rider only needs to stand on the scooter with feet separately on two standing board of the wheel and control the speed and direction by leaning forward or backward. For another, sleek and contoured, the double-wheels electric scooter is as well-made and durable as stylish.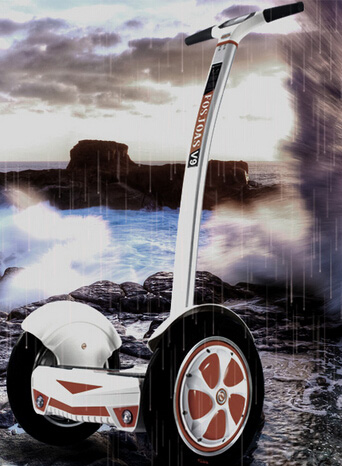 The build-in chip of the V9 is the international latest invented intelligent chip. And the V9 electric standing scooter has the build-in gyroscope combined with the aerospace attitude control technology to make the scooter in balance during the operation in all the directions. This kind of complete intelligent system design can not only improve the reaction speed of the scooters, but also the safety during the operation. Therefore, the whole operation ride experience of the scooter can be relaxed and totally safe in every ride.
Fosjoas U3 is the high—tech innovative product from the Fosjoas. This kind of electric scooter has the excellent performance. It has the milestone significance in the history of transportation. From the practical use value aspects, U3 intelligent power scooter can almost meet all the needs of short distance travel from the modern people. It can hold the maximum weight of 120 kg and achieve the fastest 18 km speed. Differing from V9, the shaft used to be in amazing design with rotating colour light in V9 was changed to be fordable in U3, which enables it to be easily put into the trunk. The bravo performance of the Fosjoas U3 standing up electric scooter satisfies all the public and be the most reliable insurance for the riders.
By the virtue of compactness and small, and the quick and convenient, Fosjoas electric scooter makes the traffic congestion problem solved.