Fosjoas K3 Saddle-Equipped Scooter Shows Riders the Future Technology
Source:Fosjoas begin Time: 2017-01-03
Abstract: Electric scooter, loved by young people and commuters, still meets a great many difficulties and limits. For example, riding for a good time is too fatigue because of its standing-posture model. The release of Fosjoas K3 electric scooter with seat makes up its loophole and turns the long-distance trip into reality.
Thanks to the development of science and technology, means of transport has updated accordingly. Since electric self-balancing scooter entered the market, the younger generation has fallen in love with it and later adopted it. However, the traditional electric scooter can't fit the need of long-distance trip for city commuters. The e scooter industry is longing for a brand new model, like the Fosjoas K3 two wheel electric walkcar that overthrows the rational look of the electric scooter and show all the scooter lovers a brand-new and high-quality transport.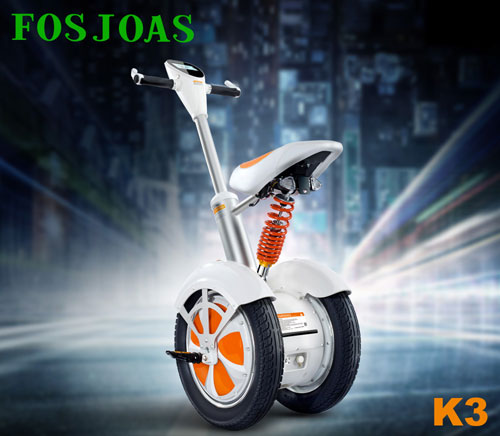 Fosjoas K3 changes the stereotype that the electric scooter cannot be ridded for long distance and cause tiredness easily. K3 double-wheels electric scooter conquers this significant problem by installing a comfortable saddle, which frees users' legs and feet and makes possible the long-distance in city. In addition, the electronic braking system is another shining point, which erases the worry of many users. It helps K3 intelligent power scooter to stop within 0.5 second after riders' pressing of the braking bottom and limits the stopping distance within 50 centimeter. The scooter users do not need to worry about the safety any more.
Fosjoas K3 sitting-posture electric scooter as the brand-new product also adds a lot of new elements, which combines the ideas from the well-known designers around the world. According to the convention, Fosjoas adopts the stirring wheel from the car and adds the latest hydraulic suspension, which improves the stability and provides a more comfortable riding experience. From the saddle to the braking system, from the suspension to the stirring wheel, K3 considers every aspect and takes care of every detail.
Science and technology bring convenient life to the scooter lovers and Fosjoas K3 two wheel saddle-equipped scooter leads the people to experience the latest technology and provides a most convenient riding. The era of K3 2-wheeled electric scooter is coming.