One Big Step in Electric Scooter Development—Fosjoas K3 Saddle-Equipped Scooter
Source:Fosjoas begin Time: 2017-08-22
Abstract: The electric scooter is created to help solve people's transport issues and meet their requirements. Fosjoas always holds the mission to provide consumers with the top-quality electric scooter. K3 two wheel saddle-equipped scooter is the powerful evidence.
The aggravation of air quality raises public concerns. The culprit is well known to us, i.e. emission produced by the auto. The self-balancing electric scooter, as a new type of transport is intended to solve the daily travel issues, which is what Fosjoas is striving for. To achieve that goal, Fosjoas spares no efforts to focus on product development and K3 double-wheels electric scooter embodies a big step not only for Fosjoas, but also for the whole electric scooter sector.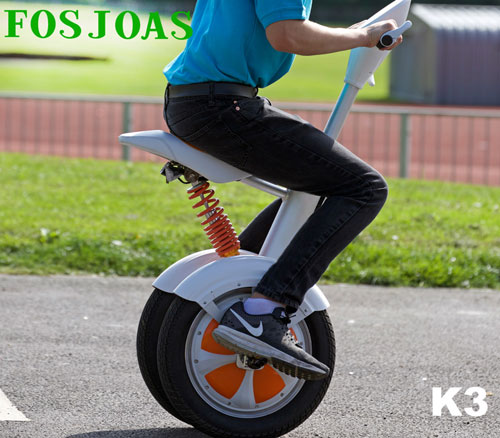 Traditionally, riders have to keep standing while steering the vehicle so they may become tired after a long ride. As for some consumers, that would be a big problem for they can't stand long-time standing. In order to deal with this problem, Fosjoas added a V-shaped saddle to K3 sitting-posture electric scooter. With this refinement, riders can sit on the transport while riding the transport. Moreover, there is a hydraulic suspension under the saddle to abate the impact and vibration arising during the ride. Apart from that, Fosjoas also mounted the electronic brake system on K3, which is another breakthrough in history. This new system adopts electronic control rather than mechanical driving. In this way, it can react instantly and brake at once.
Besides, unlike other models, K3 two wheel electric walkcar has its own steering wheel with which riders can turn around at ease without tilting. On that account, it will be more convenient for users to master the vehicle. What's also worth mentioning is the exclusive mobile app that is developed for K3. Users can connect their phones with the app and then monitor the real-time data of the transport. Based on the data they observe, they can make necessary adjustment and review the condition of the transport. The function is introduced to other models and this goes to say that the new technology is being adopted in a wide way. Indeed, Fosjoas K3 electric scooter with seat is a big step in the transport sector.