Not Only The Fosjoas Mini Electric Scooters, But Also The Electric Skateboards Enrich Our Daily Life
Source:Fosjoas begin Time: 2017-09-25
Abstract: The skateboard that is familiar to the public, Fosjoas modified it, which in fact came as an eye-opener. That is the K1 wireless control electric skateboard. It not only makes skateboarding much more interesting, but also can be used as a transport for daily use.
The advent of Fosjoas K1 electric skateboard thoroughly changes the impression of skateboarding. Skateboarders now have a new favorite in Fosjoas - K1. Therefore, skateboarders are able to skate with K1 relaxingly. More importantly, K1 is not exclusive to young people anymore and many senior citizens also enjoy skateboarding with it.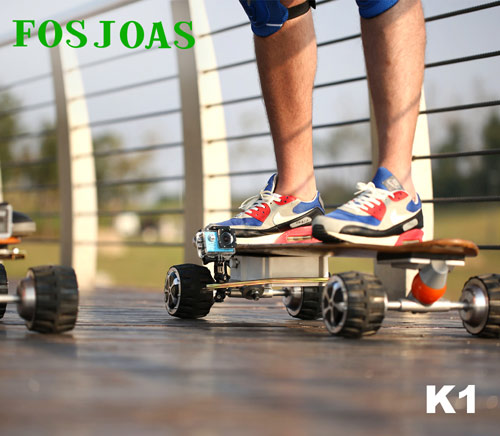 To be specifically, K1 benefits riders from the following two aspects. For one thing, it is based on gyroscope system to keep itself balanced automatically. Therefore, even the elderly can ride it freely and without any challenge. The modified vehicle units and good designs of the whole vehicle units which provide riders with better stability. For example, if riders want to speed up, just lean forward. For another, K1 self-balancing air board is powered by high-efficient branded lithium-ion battery that has two capacities-81.4Wh and 162.8Wh, which offers the maximum speed of 20km. Long range not only can satisfy riders' enthusiasm towards skateboarding in full measure, but also can cover many travel needs in daily life.
Skateboarding is a popular means of recreation among the masses. The activity is exciting and a good exercise. Fosjoas K1 not only meets the recreational demands, but also the practical requirements. People can ride K1 electric drift hover board to buy some daily articles in a shop near their house. Some people even use it as a transport to go to work every day, which saves them much valuable time, especially in rush hours. The rich functions of Fosjoas K1 will attract more and more users. In addition, it is really cool to ride K1 on road. The four forceful wide tires, exquisite hand-made board, fashionable sticker and the calm color assortments integrate a brand-new skateboard, which will make riders quite special in the crowd. So, have you prepared to let K1 electric air board enrich your daily life?