Allow The Fosjoas K3 Saddle-Equipped Electric Scooter To Perk You Up
Source:Fosjoas begin Time: 2018-02-24
Abstract: Have you been bothered by traffic jam? Do you want to relax yourself? If yes, you need a stylish and powerful transport—Fosjoas K3 saddle-equipped electric scooter. Being extremely powerful, comfortable and intelligent, it is to perk you up and helps you focus on the fundamentals.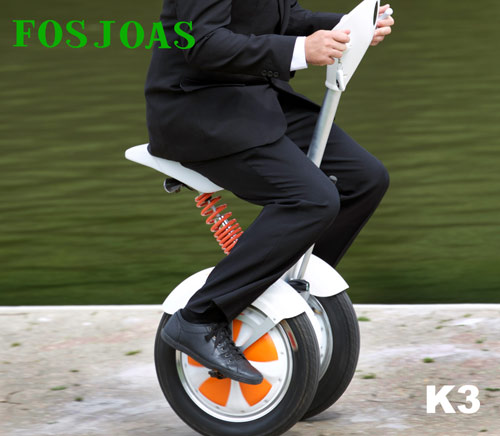 As a new-generation electric scooter, Fosjoas K3 sitting posture self-balancing scooter is extremely powerful, comfortable and intelligent. With it, you can surely embrace the amazement of life. K3 offers unparalleled comfort. It firstly adopts the sitting riding posture and its sleek saddle in V-shape is designed under the ergonomic principle, offering more comfortable ride than others. Anti-collision bar on the back of handle is also worth to mention. It is helpful to abate impact and abrasion so as to better protect the scooter body. Also, it is equipped with a hydraulic shock absorption system, which brings agile response and stable operation, so that it can give a smooth ride even on meandering and bumpy roads.
Besides, Fosjoas K3 is extremely powerful. The latest maglev technology applied in its motor enables a non-bearing and non-radial load design so that a wearing part is omitted to make it more durable. As for its energy supply, its branded battery core has great braking force and can accelerate fast, while it also features numerous recharge times, longer battery lifespan. Another feature of Fosjoas K3 saddle-equipped electric scooter is its 16-inch tires, which have great grip ability and make the scooter run steadily even on sandy roads and slopes. With its outstanding configuration, K3 is impeccably comfortable. With its powerful driving forces, K3 surely can perform excellently.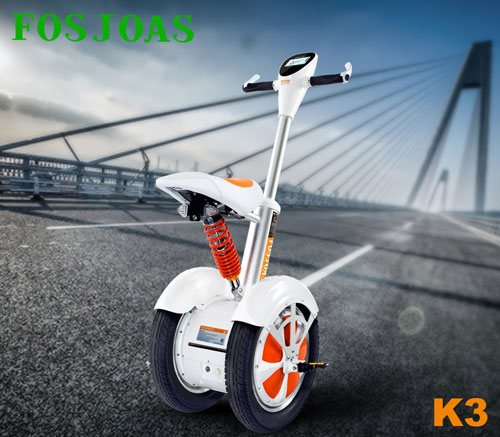 High-definition LED displayer is another humanized design to show the real-time data. Meanwhile, you can check its condition via the smartphone app. Its built-in intelligent chip collects all the data and then will be transmitted wirelessly to the smart phone where calculations and analysis are made by the app and the visual data feedback is shown to the user in real-time. With the App, you can master K3 self-balancing electric scooter's conditions comprehensively. To sum up, outstandingly comfortable, powerful and intelligent, Fosjoas K3 two-wheeled electric scooter surely can perk you up and helps you focus on the fundamentals.