One-wheel Electric Unicycle Is Booming And FOSJOAS is Waiting For You
Source:Fosjoas begin Time: 2015-08-07
Bicycles used to be a cheap and convenient transportation. However, with the rising of people's living standard, it gradually cannot satisfy people to pursue the spirit of adventure and fresh cultural needs. As a novel stimulus transportation which can also effectively reduce the carbon footprint, one-wheeled electric self-balancing scooter undoubtedly meet the requirement of the people's travel demand and adventurous spirit.
In recent years, the boom of one-wheel electric scooter has arisen. At the same time, the new electric unicycle groups have also sprung up. The brand that most young players sought after is FOSJOAS certainly.
FOSJOAS single-wheeled scooter has won the young people's favorite with its appearance of distinct personality, low carbon emission and environmental protection concept, superb performance, etc. As a new generation of youngster growing up with the in the wide spread of environmental protection concept, they have high environmental protection awareness now. And FOSJOAS single-wheeled electric scooter consumes only several degrees electricity after hundreds of kilometers' riding. Using it as travel tool, is not only helping to reduce the automobile exhaust emissions but also save a lot of money for consumers.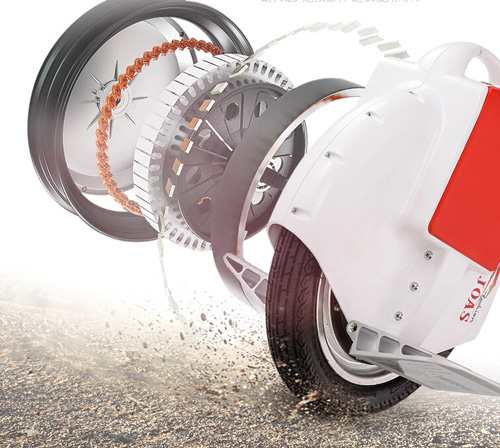 FOSJOAS single-wheeled electric scooter can completely meet your travel demand within 10 km. For students, electric unicycle can bring you more leisure activities and help to make more friends; for white-collars, it is a great help to avoid the rush congestion. In addition, consumers do not need worry about parking it that adults can easily raise it and put it under the desk or next to the stool with its 10kg weight.
The fitness function of one-wheeled electric scooter is also not allow to ignore. Unicycle relies on people's balanced direction to control. During this process, the gravity changing of people helps to promote brain development, alleviate the pressure and exercise coordination, etc. As it brings physical exercise as well as a fun field trip, why not to do it!
Electric unicycle exactly fulfills both speed and passion for young people. FOSJOAS self-balancing single-wheeled scooter can reach a speed of 18 kilometers per hour and people can choose difficulties in different ways based on their bravery. Compared with the other physical exercises, electric scooter with speed and passion brings more pleasure.