Cool travel with one-wheel scooter, FOSJOAS V series intelligent electric scooter
Source:Fosjoas begin Time: 2015-08-08
FOSJOAS V series electric scooter is popular at home and abroad in recent years and becomes one of the most favorite transportation of young people in the new era. It is voguish and novel, smart cool, reveals youthful vitality and highlights the vigor and vitality that therefore become welcomed by the users from all over the world.
Each one of one-wheel electric scooter shows is characteristic. As the first classical detonation to launch, V6 relying on its excellent quality and high cost ratio has long been a favorite of one-wheel scooter self-balance unicycle users. It is the most suitable one-wheel scooter electric unicycle to practice for its material comforts, stain resistant and heat resistant.
The built-in smart chip of all the one-wheel scooter production of FOSJOAS is the most advanced one from all over the world, which uses aerospace attitude control theory, fuzzy software algorithm and gyroscope system to ensure self-balancing of the electric scooters with before and after direction. Users only need to change the direction of their body to operate it easily. In addition, FOSJOAS V series one-wheel scooter self-balance unicycle is also equipped with auxiliary wheel to help the user to learn as soon as possible.
V6 is slightly different from others models in shape, as well as using the imported lithium ion power batteries, super mute motor, Cheng Shin Tire, magnetic levitation high-tech nano-technology synthetic resin shell and the intelligent comprehensive safety protection. And it is increased in performance.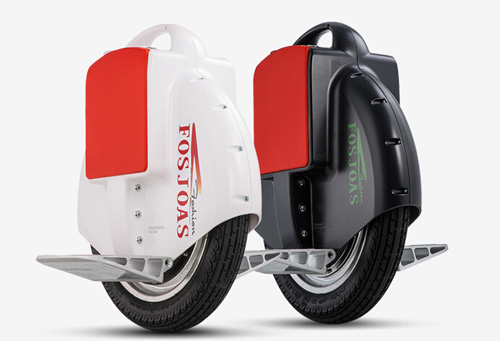 As for one-wheel scooter electric unicycle V6, the pinnacle of V series, is perfect in various aspects. Compared with other products of V series, V6 has better quality and stronger power. It is more practical with 16 inches big wheel to cross obstacle and shows peak majestic demeanor. Nevertheless, its ultra-thin fuselage makes it more flexible to circulate in the city easily.
Although there are various intelligent unicycles of FOSJOAS, electric one wheel self-balance unicycle will always shows its own unique charm. Like ballet dancing on one toe, one-wheel scooter electric scooter is unable to resist the charm of a wheel.
one-wheel scooter cycling and shining on the street, FOSJOAS offers you the best quality one-wheel scooter electric unicycle.