Top Advantages of JOSJOAS V9 Self-Balancing Electric Scooter
Source:Fosjoas begin Time: 2015-08-10
Self-balancing electric unicycle becomes more and more popular at present. The fashionable appearance, excellent performance, environment-friendly characteristic and comfortable riding experience of self-balancing scooter attract lots of people. In the current market, JOSJOAS is one of brands that have achieved good reputation of offering rich electric scooter types with high quality. Then, the following will take JOSJOAS V9 for instance and share its top advantages.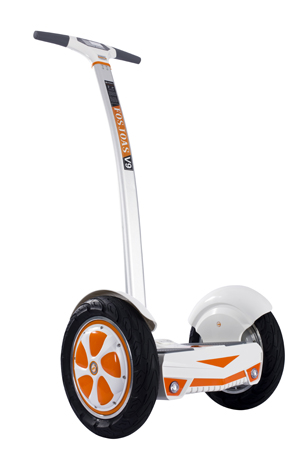 Like other JOSJOAS electric scooters, V9 relies on aerospace attitude control theory, fuzzy software algorithm and gyroscope system to realize self-balancing. That is to say, it is easy-to-learn. Riders can change center of body weight so as to realize different operations, like accelerating, decelerating, braking or changing direction. The two-wheeled design offers more comfortable and stable riding experience than that of twin-wheeled V5 or single-wheeled V6. Comparatively speaking, the elderly prefer to choose V9.
The adopted 520WH Japan-made lithium-ion battery paves the way for strong power, which can be charged repeatedly for as many as 4000 times and needs 180min to be fully charged. JOSJOAS has made a breakthrough in the range of V9 self-balancing scooters and the maximum range reaches 45km. Therefore, almost all of short-distance requirements in daily life can be satisfied by V9. Besides, there is a silicon protection bar installed on the back of handle, which is good to reduce abrasion between scooter and other objects. In order to make sure comfortable hand feel, the handles of V9 are designed in accordance with human engineering. The 4-inch LED displayer is also an outstanding highlight of V9. It can clearly show the real-time riding speed, outdoor temperature and remaining electricity.

The last but not the least, JOSJOAS V9 enjoys broad applications. It can be used as daily transport or used by staff in some large work place. It also can be used for entertainments, like going shopping or sightseeing.