Mounting Fosjoas Electric Unicycle Becomes a Fashion
Source:Fosjoas begin Time: 2015-08-17
Actually, it is a brand-new fashion trend-riding intelligent self-balancing electric unicycle. Because of fashionable appearances and outstanding performance advantages, they will lead the mainstream of fashion. On the current market, Fosjoas is a leader in the electric scooter sector and enjoys a promising future in fashion world.
Fashionable figure attracts many young people. Under Fosjoas, there are four types of electric unicycle, including electric unicycle, twin-wheeled electric scooter, two-wheeled electric scooter and sitting-posture self-balancing scooter. Comparatively speaking, single-wheeled and twin-wheeled electric scooters enjoy the features of small size, light weight, exquisite appearance and good flexibility. Two-wheeled electric scooters give riders a strong sense of dignity and they are the first choice of many city elites. Sitting-posture self-balancing scooter offers users more comfortable riding experience. Therefore, rich types make Fosjoas electric scooters have a huge consumer base.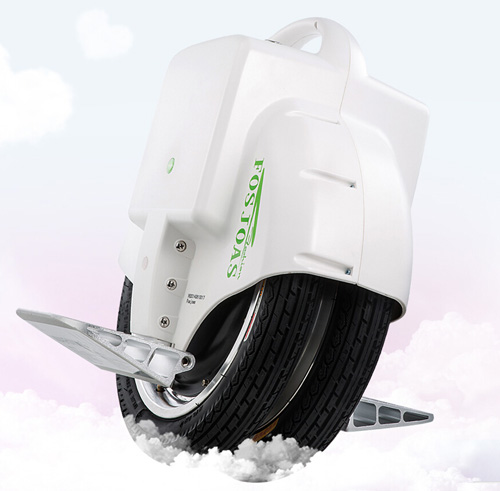 The issue of green travel hasn't been solved for a long time, but Fosjoas has done great job in this aspect, which is a big technological breakthrough. All of Fosjoas electric scooters are equipped with Japan-made SONY or Panasonic batteries, which enjoy longer useful life and higher work efficiency than ordinary batteries. Meanwhile, Fosjoas electric scooters are driven by electricity and only cost 1or 2KWH every 100km. Thus, they are environmental-friendly and economical.
Fosjoas electric unicycle have many applications. Young people can ride electric scooters to take part in a party or meet their good friends. Office workers can ride them to work every day so as to shun traffic congestion. The elderly can ride electric unicycle to exercise their four limbs or walk their dogs. All in all, Fosjoas self-balancing scooters possess a big potential market and represent a fashionable way of traveling.